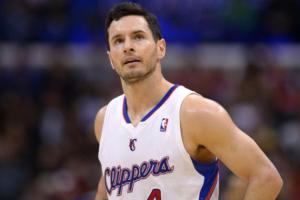 The Los Angeles Clippers are fighting for playoff position in the tremendous Western Conference, relying on the three-headed monster of point guard Chris Paul, power forward Blake Griffin and center DeAndre Jordan to lead the way.
However, the NBA's second-most prolific scoring unit can only engineer a postseason run if its perimeter specialist remains on the mark.
J.J. Redick, a ninth-year veteran and lottery pick in 2006, is quietly the key to Los Angeles' attack, and it was no more evident than during a 119-106 victory over the Boston Celtics on Sunday.
The Clippers displayed what was simply an offensive juggernaut, shredding the Celtics for 105 combined points through three quarter. Redick poured in 24 of his game-high 27 points and dished four assists during that time.
He finished 5-of-6 beyond the arc and 11-of-15 overall, leaving Boston coach Brad Stevens with high praise for the shooting guard.
Stevens: "Redick's playing at a ridiculous level."

— Jay King (@ByJayKing) March 30, 2015
Redick's trademark off-ball movement was on full display throughout the contest, which is a critical piece of any fast-paced offense once it enters half-court sets.
Heck, he was even using Celtics defenders as screens to delay their own teammates.
This is just classic J.J. Redick. Watch how he gets himself open. It's awesome. https://t.co/35uT6qC3zd

— Clippers Central (@ClippersCentral) March 29, 2015
Los Angeles improved to 49-25, though it holds the No. 5 seed in the West due to a strange preference the NBA grants division leaders. Nevertheless, the Clippers sit 1.5 games ahead of the surging San Antonio Spurs and are in position to avoid a first-round matchup against the Houston Rockets or Memphis Grizzlies.
Redick is the key to LA's prospective playoff run, averaging a career-high 15.9 points per outing on personal-best shooting marks of 47.2 from the field and 42.9 from long distance.
He's also one of the league's most impressive first-quarter performers. The 6'4″, 190-pound role player has tallied 6.4 points during the opening frame, per NBA.com, which is the highest mark by someone not considered a superstar.
The players ranked ahead of Redick are Russell Westbrook, LaMarcus Aldridge, James Harden, Stephen Curry, DeMarcus Cousins, Carmelo Anthony, Griffin, Anthony Davis, Kevin Durant, Kevin Love, Pau Gasol and LeBron James. Impressive company, to say the least.
But Redick's early scoring also eases the burden on CP3, who tends to grab larger offensive responsibilities during the closing frame.
Additionally, Los Angeles sports a 29-7 record when Redick scores at least 16 points. That's certainly not a perfect measurement, but when the Duke product is contributing at a high level, the Clippers typically win.
Most importantly for Doc Rivers' team, though, Redick knocking down shots results in a lesser scoring load on the razor-thin bench unit. Austin Rivers and Spencer Hawes have their moments, but Hedo Turkoglu and Glen Davis cannot be relied upon for consistent impact.
/shuffles feet /jabs thumb at bench /mumbles RT @cliprguy: @HPbasketball i still think the clips have a shot

— Hardwood Paroxysm (@HPbasketball) March 28, 2015
According to HoopsStats, Los Angeles' reserves have posted the third-worst efficiency rating, a product of the NBA's No. 21 bench offense.
When Redick starts hot, the starters can build a quick advantage. When the Clippers have an early lead, the bench has a little more room, frankly, has more room to mess up. When Paul can save energy for the closing moments, Los Angeles can sustain its elite attack.
But it all comes back to Redick, one of the more underrated players in the league. Los Angeles will only advance as far as its perimeter specialist can boost the starting unit.
Unless otherwise noted, stats are courtesy of Basketball-Reference.com and are accurate as of March 29.
In addition to his work for The Hoop Doctors, David Kenyon contributes to Bleacher Report and Sportsnaut. You can follow him on Twitter: @Kenyon19_BR.