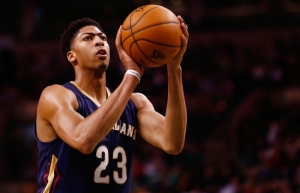 How's this for dedication? Last night, the Pelicans lost at home to the Rockets by two points in a game where Anthony Davis went 6-14 from the free throw line. Davis has improved his outside touch since entering the league so those eight misses really sat with him afterwards.
After the game, Davis went back out to the court and didn't leave the arena until he made 100 free throws.
Still dressed in his uniform, Anthony Davis went back on the court after Wednesday night's game against the Houston Rockets when most of his teammates had already showered and left the Smoothie King Center.

So he went back out to practice. He put up enough free-throw shots until he made a 100 before heading to the locker room to shower. There were no Pelicans coaches around, just one of the Pelicans' attendants retrieving the ball after Davis put up his shots.
H/T: NOLA.com