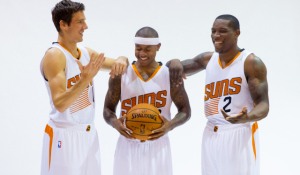 The final 20 minutes of the 2015 NBA Trade deadline were pure unadulterated insanity, a mixture of euphoria for NBA fanatics who obsess over trade rumors and player movement (me) and paranoia and panic for NBA GM's and players.
What seemed a few days prior to be a snoozer of trade deadline with what was assumed to be the big moves having already taken place in the previous weeks and months (Rondo to Dallas, Green to Memphis, etc.) turned into absolute chaos at the 11th hour (or more specifically 45 minutes into the 11th hour) and resulted in a few franchises redirecting their organizational direction and many talented young commodities playing musical chairs.
In all 39 players were traded on deadline day, a mind boggling number especially when you consider that is roughly 10% of the league.
The most active team by far and the one who most greatly altered their path and direction as a franchise was the Phoenix Suns.
Here is a list of the assets they traded on deadline day as well as a list of they got back in return (players who were instantly waived are not included on this list):
Assets Traded:
G Goran Dragic
G Isaiah Thomas
G Tyler Ennis
G Zoran Dragic
C Miles Plumlee
Lakers 1st round pick (top 5 protected 2015, top 3 protected 2016)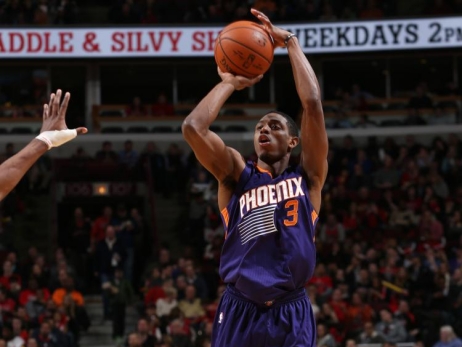 Assets Received:
G Brandon Knight
G Marcus Thornton
G/F Danny Granger
Cavaliers 2016 1st round pick (top 10 protected through 2018)
Heat 2017 1st round pick (top seven protected in 2017 & 2018, unprotected in 2019)
Heat 2021 1st round draft pick (unprotected)
With Dragic's last minute power play and out of character public detailing of his distrust in the organization, the Suns were really backed in a corner with Dragic and had almost no choice but to take whatever they could get in a deal from Miami, the Lakers or the Knicks. Without question a poo poo platter of potential trade partners, as all of which boasting very few attractive trade assets.
Although you can't completely blame the Suns for their paltry return for an All-NBA performer in Dragic last season, you can absolutely blame them for creating the situation with a series of questionable decisions this offseason that seemed too focused on the accumulation of more assets and less concerned with acquiring assets that fit on the court or in the locker room.
The Suns followed up the extreme progress of GM Ryan McDonough's first offseason where they transformed a roster devoid of assets and youth into an exciting accumulation of talent that was a budding contender in the brutal western conference (They turned Jared Dudley, Luis Scola and a 2nd round pick into Eric Bledsoe, Gerald Green and Miles Plumlee) by stockpiling more assets in areas that were already a clear strength (point guard) and negating to address their weaker areas including their frontcourt and veteran leadership. Some of the optimism and excitement that was created with the Suns surprisingly rapid 23-win turnaround and 48-34 record (Vegas expected them to win 19 games) has been squelched by some misguided decisions in year number two of the McDonough-Hornacek era.
The decision to not trade a first round pick to acquire a quality veteran big man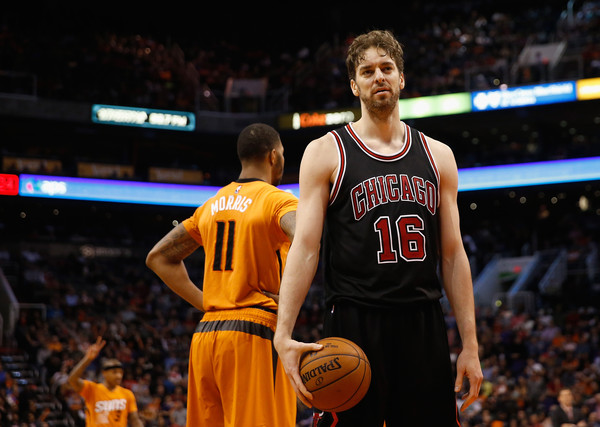 There was some magic brewing in Phoenix around the trade deadline last season as the Suns were playing great basketball and had gotten 10 games over .500 including a couple of victories of the NBA leading Indiana Pacers at the time. It was clear the Lakers were ready and willing to move on from their frustrated and highly skilled veteran big man in Pau Gasol, whose talents were being wasted on a terrible Lakers team. The Suns had the great opportunity to trade one of their three draft picks (which ended up being no 14, 18 & 26) to acquire Gasol to bolster their weak frontcourt depth and make a serious playoff push. Instead, the Suns opted to hold on to all three of their draft picks and ultimately miss the postseason and now Gasol is having a renaissance year in Chicago averaging 18 and 12 per game. Gasol would have brought much needed veteran leadership to a young Suns team and may have been convinced to re-sign this past summer
In the days leading up to the NBA Draft another quality big man who perfectly matched what the Suns sorely needed was made available for roughly the same asking price: Tyson Chandler.
Dallas only had to deal aging role players (Jose Calderon and Samuel Dalembert) a young piece in Shane Larkin, and two second round picks to get him. The Suns could have easily trumped that offer with the 18th or 26th pick and Miles Plumlee. Chandler is averaging 11 and 12 for Dallas this season and is serving as their incredibly valuable defensive anchor.
Not making the re-signing of Channing Frye a priority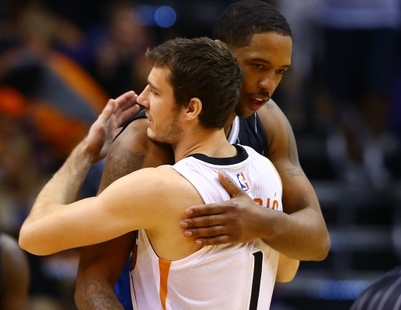 Although the swing for the fences to try and have space for LeBron and Carmelo or Bosh if they were interested was warranted and worth a try in my opinion, the decision to not make bringing Channing Frye back a top priority was a poor one by the Suns.
Although upon first glance $8 million a year for a player who averaged 11 and 5 the year before seems a little much, Channing's value to the Suns couldn't be measured in traditional statistics.
Frye possesses one rare skill that is extremely crucial and beneficial to the success of the Suns pick and roll centric offense: spacing.
According to data from Stats LLC and Sports VU cameras in every NBA arena, Goran Dragic and Channing Frye were the best pick and roll combination in the NBA last season. Frye's elite three-point shooting ability for a seven-footer would bring out an opposing big man and allow space for hyper-aggressive rim attacking guards Dragic and Bledsoe to get the hoop. Dragic and Frye averaged an extremely impressive 1.3 points per pick and roll last season (check out this Grantland article breaking everything down: http://grantland.com/the-triangle/how-to-train-your-dragic-the-suns-star-talks-about-his-evolution/
Another overlooked factor with Frye's departure was his veteran leadership and calming influence. Anybody who has watched the Suns this season knows that they are in dire need of leadership and accountability as they often start games and half's slow and force themselves to play catch up, they also struggle to control their emotions and lead the NBA in technical fouls on the season with 40 as a team (through February 22).
The draft mentality of stockpiling assets instead of drafting for fit or need
The 2013 Draft for the Suns is looking better by the day as the Alex Len continues to progress rapidly and show that he may be one of the few gems in an otherwise weak draft.
This past draft though the Suns opted to take a throwback type scorer in T.J Warren at 14 and another young point guard in Tyler Ennis. Warren may evolve into a good NBA player, but he is a wing with limited athletic ability and shooting range which has always been an odd fit for a Suns offense that traditionally likes to spread you out with the pick and roll and surround their floor generals with shooters.
Ennis was never set up to be able to succeed or grow in a loaded backcourt that already featured Dragic, Bledsoe (and soon to be Isaiah Thomas) and didn't really fit the Suns mold of a run and gun penetrating point guard either.
McDonough and the Suns front office are big believers in analytics and the baseball or football model of stockpiling assets which is useful but not as relatable in the game of basketball where much of a team's success is determined by 7-9 players and chemistry and fit is much more important than just talent or assets.
The signing of Isaiah Thomas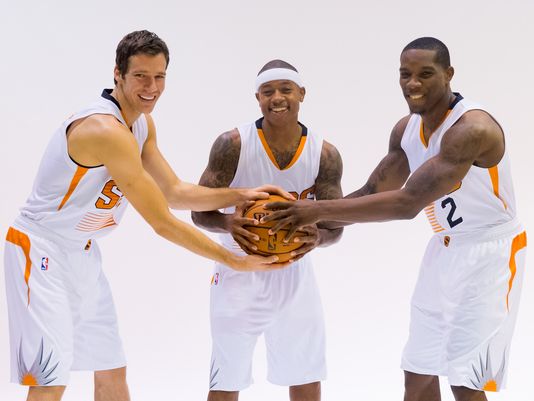 This was the big mistake and the one that more than likely led to Dragic's distrust in the organization and desire to leave the desert.
Thomas put up great numbers in Sacramento last season (20 points and six assists per game) and paying just under $7 million a year for that production is a good value on the surface, but adding another ball dominant, shoot first point guard who wants to run his own team (don't all point guards?) was doomed from a chemistry perspective from the beginning even if it looks as though it could work analytically.The addition of Thomas clearly limited Dragic's effectiveness early in the season and it was clear he was affected by his presence. The fact that Thomas is somewhat of a volume shooting undersized scorer who would create more defensive issues paired with other point guards made the move even more head-scratching.
Although by the numbers the Suns actually fared well when all three were on the floor, Thomas's inclusion clearly disrupted the harmony and energy that surrounded last year's Suns team.
McDonough admitted as much himself in an interview with a local Phoenix radio station in the days leading up to the deadline:
"I think our roster balance is a little off, and that's my fault," McDonough said. "We are a little too backcourt heavy, especially in terms of guys who, you know, I think you'd define primarily as scorers in the backcourt.
"So I think at some point we'll need to balance that out, try to get a little more size, a little more frontcourt scoring and rebounding."
Now (finally) fast forward to last week's NBA trade deadline and the Suns offseason decisions resulted in a doomsday scenario where their best player from last season demanded to be traded 48 hours before the deadline and dictated the teams the Suns could trade with.
This panic and McDonough's admission that he had made some mistakes this offseason resulted in the Suns engaging in an offseason do-over by dealing Thomas, the disgruntled Dragic and first round pick Tyler Ennis, along with another extremely valuable asset in the Lakers top-five protected 1st round pick. In return they received a talented young point guard in 23-year-old Brandon Knight along with spare parts and a trio of picks which may never hold much value.
Looking deeper though, Knight is another asset that doesn't make sense from a chemistry or fit perspective for the Suns as he is another potentially disgruntled point guard playing out of position that is a restricted free agent that will require a big contract and lead to another nightmarish scenario like Bledsoe's situation became this offseason.
So in all the Suns dealt an all-star caliber point guard, a 2014 first round pick in Tyler Ennis, a talented bench scorer in Isaiah Thomas, a young big man when they have limited depth in the frontcourt and a potential top 10 pick the next two years for another point guard who may want to bolt this offseason, a late first round pick and a couple mystery picks in the distant future.
It's clear from my perspective that the Suns front office's missed opportunities and questionable personnel decisions in the past year have squelched the momentum created by last season's amazing turnaround and make the Suns once assuredly bright future more murky moving forward.
The Suns are still one of the youngest teams in the NBA and have some exciting young pieces locked in for the next few years in Bledsoe, Morris and Len. They will have numerous picks and oodles of cap space in the next few years and the opportunity to get their once promising rebuild back on course.
For the fourth winning-est franchise in the NBA by winning percentage and a franchise that made the postseason 19 of 22 seasons from 1989-2010, this will more than likely be the fifth straight season the Suns will miss the postseason, the fourth longest drought in the NBA.
Here's to hoping Phoenix is able to rise from the ashes and return to their position of prominence in the western conference by getting re-igniting the future.