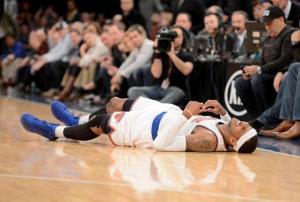 It's safe to say that the New York Knicks, who are dead last in the league standings at a win-loss record of 10-43, have nothing left to fight for this season except for the upcoming draft lottery this summer.
That being said, it's no surprise that the New York Knicks are reportedly expected to rule out their All-Star forward Carmelo Anthony for the remainder of the season, according to Marc Stein of ESPN.com.
ESPN sources say that Knicks will officially rule Carmelo Anthony out for rest of the season later Wednesday

— Marc Stein (@ESPNSteinLine) February 18, 2015
Carmelo headed for knee surgery in the near future, I'm told, and will be ruled out for rest of the season as he hinted during AS Weekend

— Marc Stein (@ESPNSteinLine) February 18, 2015
This move totally makes sense for the Knicks and Anthony as they head towards the future and hope to immediately surround their star with the right players to become a legitimate contender. Now Anthony will be able to undergo a much-needed surgery to get back to full strength and form for next season.
The off-season is going to be a critical factor that will determine the team's fate next season and the team's president, Phil Jackson will clearly have his hands full in leading the Knicks back in the right direction. And of course, a healthy Anthony is necessary in order to fulfill their existing plans.
Benjamin Felix Santos is currently a senior college student from Manila, PH. An aspiring NBA writer, who bleeds the purpleand gold. His love and passion for the game will never die.
Follow @biefsantos