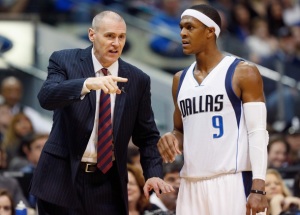 Tuesday night, tempers flared on the Dallas Mavericks' sideline between veteran head coach Rick Carlisle and Rajon Rondo.
The point guard appeared to be ignoring an offensive play-call from Carlisle, who angrily demanded a timeout and proceeded to shout at Rondo. Videos easily found on the Internet show him verbally retaliating, hurling an "F-bomb" at Carlisle.
As a result of the disagreement, Rondo was benched for the remainder of the Mavericks' 99-92 victory over the Toronto Raptors. He logged just 18 minutes, his second-lowest tally of the 2014-15 campaign.
But which man dropped the proverbial ball in this case? Or is the blame to be equally shared?
Unsurprisingly, the four-time All-Star wasn't thrilled about what happened. Following the game, Brad Townsend of the Dallas Morning News notes Rondo said, "We won. Discuss it with Rick."
To his credit, Rondo didn't continue to lash out unnecessarily. Like the old saying goes, if you don't have anything to nice to say, don't say anything at all.
However, why would Rondo appear to willingly ignore Carlisle's play-call when that's how Dallas typically operates in half-court sets? It's quite obvious Rondo struck a nasty chord with the team's leader.
ESPN's Tim MacMahon shared the coach's point of view.
"Well, it's an emotional game, and we had a difference of opinion," Carlisle said. "There was an exchange, and then, in my mind, it was over."

… Asked whether Rondo would be the starting point guard for Wednesday night's game against the Atlanta Hawks, Carlisle said, "That's what we brought him here for."
Or not.
The Mavericks suspended Rondo for Wednesday night's showdown with the Atlanta Hawks, the Eastern Conference's best team. Atlanta blasted Dallas 104-87 in his absence.
If the situation was truly "over," then why did Carlisle—or the front office—punish Rondo for his actions? The Mavericks' reasoning was conduct detrimental to the team, though Carlisle laying into Rondo in the middle of a game can certainly be perceived as detrimental, too.
In reality, the blame indeed falls squarely on both parties. The argument looks more like the boiling point being reached, causing unpleasant yet necessary conversations in the Dallas locker room.
Per MacMahon, Carlisle said:
"The events of [Tuesday] night are now in the past, and we've got to move forward. I need to say this very clearly: He is an extremely important part of our team. Our efforts to get to the highest possible level largely hinge on him playing and playing well with him. He needs to play well with us, and we need to play well with him. It's a two-way street.

"I want to stress and reiterate how important Rajon Rondo is to the Dallas Mavericks. For us to get where we want to get and we strive to get this season, his abilities have to be utilized by us the best possible way. That's in large part my responsibility, and I do not dodge that.
Admittedly, Rondo hasn't meshed with the Mavericks like the front office envisioned when he was acquired via a mid-December blockbuster trade.
The starting lineup of Jameer Nelson, Monta Ellis, Chandler Parsons, Dirk Nowitzki and Tyson Chandler racked up a plus-54 rating in 254 minutes together, per Basketball-Reference.com. With Rondo replacing Nelson, the unit has logged 306 minutes yet been outscored by seven points.
Dallas sent Nelson and Brandan Wright to Boston as compensation, and the loss of the latter has hamstrung the reserves. Carlisle no longer has a reliable post player to send in off the bench.
Wright registered at least 10 minutes with 10 different five-man groups, and he guided nine of them to a positive rating, tremendously utilizing his outstanding length on both ends of the floor. Now that his impact has vanished and the Mavericks' starters have collectively struggled, what was the league's most-prolific offense has stumbled.
Trading for a brand-name point guard doesn't guarantee anything. The Mavericks' offense has suffered since adding Rajon Rondo.

— Jimmy Spencer (@JimmySpencerNBA) February 25, 2015
Dallas was 19-8 when they added Rondo but a mediocre 20-13 since. It's no surprise that frustration grew to a point where Rondo and Carlisle bickered during a tightly contested battle.
While neither Rondo nor Carlisle deserves more of the blame from Tuesday's shenanigans, that status quo is contingent on their relationship moving forward. The hard-headed player and no-nonsense coach have 22 more games to find common ground.
They've both won championships. They ought to know that a potential 2015 crown is dependent on a mutual understanding and agreement. If the duo can accomplish that, Dallas will find itself in a respectable position to challenge the Western Conference when the postseason arrives.
Tweaks must be made to better incorporate Rondo into the offensive scheme, but the Mavericks aren't going far in the playoffs if their star-studded acquisition and ring-bearing coach can't get along.
Unless otherwise noted, stats are courtesy of Basketball-Reference.com and are accurate as of Feb. 26.
In addition to his work for The Hoop Doctors, David Kenyon contributes to Bleacher Report and Sportsnaut. You can follow him on Twitter: @Kenyon19_BR.