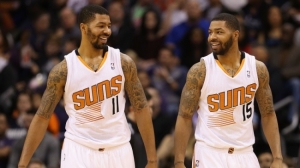 The Suns' Marcus and Markieff Morris appear to be inseparable. They've managed to somehow find themselves on the same team in the league. They've also found themselves is some alleged hot water.
The twins are being investigated for involvement in a possible assault, although no charges have been filed.
CBS 5 News has learned Markieff Morris and Marcus Morris are part of a possible assault investigation being handled by Phoenix police.

Police confirm they are investigating an alleged assault that occurred around 7:30 p.m. Saturday outside a gym near 15th Avenue and Colter in central Phoenix.
H/T: KPHO