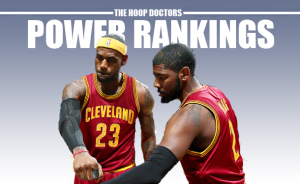 Hello again.
After a brief holiday respite, during which a crap ton of NBA-related things happened, The Hoop Doctors' power rankings are back. We know it's been tough, slogging through these last two weeks without the ability to incessantly check and read and cherish and tell your friends about updated power rankings. But the wait is over, and it will be worth it.
Trust me.
In unrelated news, the NBA is a freaking mess, both the good and bad kind. The Warriors are still going strong, and the Sixers remain stupid bad, but there's been a lot of movement elsewhere over the last 14 days. Injuries have really screwed some teams—even the Warriors—while others are just underachieving. The Hawks and Raptors are not one of those teams. They're pretty darn fantastic—bright lights shining in an otherwise dim Eastern Conference. The Cavaliers, meanwhile, have some shit to hammer out. Kevin Love isn't healthy or playing defense, LeBron James just turned 30 and it's become apparent he and head coach David Blatt don't spend the holidays together, and the team's rim protection is the stuff of mythology—this is to say, it doesn't exist.
To top it all off Josh Smith is now a member of the Rockets, Rajon Rondo has joined the Mavericks, the Pistons are…wait for it…winning and the Knicks are still making us all question the meaning of life amid the twisted torture that is their season.
Ready or not, here the power rankings come.
*Welcome back to The Hoop Doctors' PG-13 NBA Power Rankings, where almost anything goes. Language may sometimes not be suitable for those reading at work, in which case I recommend you don't read these aloud or you get a new job. Like most PG-13 movies, we'll permit one F-bomb per post. Those devoid of a sense of humor need not proceed.
***For a week by week list of all our NBA Power Rankings this season, please visit this page.
NBA Power Rankings
| | |
| --- | --- |
| 1 | |

Golden State Warriors

Andrew Bogut better get well soon. Until then, the Warriors—fresh off pounding the Philadelphia Window Cleaners—will try to keep the No. 1 spot warm for their favorite Aussie.

Last Week (1)

| | |
| --- | --- |
| 2 | |

Portland Trail Blazers

Man, the Blazers are good. This, in spite of Robin Lopez's injury and Nicolas Batum's suckitude.

Last Week (4)

| | |
| --- | --- |
| 3 | |

Memphis Grizzlies

Seems like it's the Grizzlies' defense—not offense—that's been damningly inconsistent. Because, obviously, the world isn't batshit crazy enough.

Last Week (2)

| | |
| --- | --- |
| 4 | |

Toronto Raptors

Toronto is becoming America's team.

Last Week (6)

| | |
| --- | --- |
| 5 | |

Atlanta Hawks

I mean…What it is, you see…The Hawks are just…The reason for their success is…Screw it. Just enjoy the gotdamn ride.

Last Week (9)

| | |
| --- | --- |
| 6 | |

Houston Rockets

Josh Smith is in Houston, and the Rockets are clearly struggling to find offensive balance. Defense should get them through, and they have enough talent to rebound offensively. In the meantime, HIDE YOUR RIMS.

Last Week (3)

| | |
| --- | --- |
| 7 | |

Chicago Bulls

Jimmy Butler is officially a dark-horse, it's-not-gonna-happen-but-we-need-to-talk-about-it MVP candidate.

Last Week (12)

| | |
| --- | --- |
| 8 | |

Washington Wizards

Something about the Wizards rubs me the wrong way, and I can't tell whether it's their maddeningly turbulent offense or Paul Pierce's facial hair.

Last Week (11)

| | |
| --- | --- |
| 9 | |

Dallas Mavericks

Rajon Rondo-piloted Mavericks, meet Everyone. Everyone, this is the Rajon Rondo-piloted Mavericks. Their offense is still potent as hell, and they apparently play defense.

Last Week (13)

| | |
| --- | --- |
| 10 | |

Los Angeles Clippers

Things are getting weird for the Clippers. Their offense is solid, but their defense is the gift that keeps on giving…puss-packed nipple pimples.

Last Week (7)

| | |
| --- | --- |
| 11 | |

San Antonio Spurs

At what point do we start worrying about the seventh-place Spurs? Never…Still, I'm a little worried.

Last Week (8)

| | |
| --- | --- |
| 12 | |

Cleveland Cavaliers

"Slowly, surely the Cavaliers are climbing. Don't expect them to dip outside the top seven for rest of the year." –Me, two weeks ago, because I'm fucking stupid.

Last Week (5)

| | |
| --- | --- |
| 13 | |

New Orleans Pelicans

It should be illegal for Anthony Davis to miss the playoffs.

Last Week (14)

| | |
| --- | --- |
| 14 | |

Phoenix Suns

Yeah, the Suns are stuck in that weird place, where they're too good to rely on fortunes-turning draft positioning, but too bad to make the playoffs.

Last Week (16)

| | |
| --- | --- |
| 15 | |

Oklahoma City Thunder

Still think the Thunder making the playoffs is a formality—provided Kevin Durant stays healthy and the team doesn't get stupid at the trade deadline.

Last Week (10)

| | |
| --- | --- |
| 16 | |

Milwaukee Bucks

Let's hear it for the Bucks, who still need to play John Henson more. (No, I'm never letting this go. Ever. Thanks for asking.)

Last Week (15)

| | |
| --- | --- |
| 17 | |

Brooklyn Nets

The Nets are 4-1 while bringing Deron Williams off the bench, which has obviously done wonders for his trade value.

Last Week (18)

| | |
| --- | --- |
| 18 | |

Miami Heat

A sub-.500 Heat team should still make the playoffs, but Pat Riley will have his work cut out for him this summer, as he tries to remedy a mediocre offense and detrimental defense.

Last Week (17)

| | |
| --- | --- |
| 19 | |

Sacramento Kings

Firing Mike Malone has looked good on the Kings—assuming, of course, a turtle neck sweater made from shower curtains and soiled linens can look good.

Last Week (19)

| | |
| --- | --- |
| 20 | |

Orlando Magic

Victor Oladipo shoots threes now. THIS IS NOT A DRILL.

Last Week (20)

| | |
| --- | --- |
| 21 | |

Denver Nuggets

Denver is the NBA's most understated dumpster fire.

Last Week (21)

| | |
| --- | --- |
| 22 | |

Indiana Pacers

George Hill is back, and the Pacers—even without Lance Stephenson, Paul George and a center who can dribble—are just three games outside the playoffs. Hot damn, the East is bad.

Last Week (23)

| | |
| --- | --- |
| 23 | |

Utah Jazz

Sad to hear about Alec Burks' season-ending shoulder surgery. On the bright side, this means more Dante Exum and Rodney Hood.

Last Week (25)

| | |
| --- | --- |
| 24 | |

Los Angeles Lakers

Nate Robinson feels like a future Laker. Just saying.

Last Week (23)

| | |
| --- | --- |
| 25 | |

Boston Celtics

Danny Ainge really needs to unload Jeff Green, lest he risk the Celtics eclipsing 20 or, worse, 25 victories this season.

Last Week (24)

| | |
| --- | --- |
| 26 | |

Detroit Pistons

Going a perfect 3-0 since waiving Josh Smith makes me think the Pistons waived Josh Smith too soon. He was at least upping the value of their draft pick.

Last Week (28)

| | |
| --- | --- |
| 27 | |

Charlotte Hornets

Al Jefferson is down. TRADE EVERYONE.

Last Week (26)

| | |
| --- | --- |
| 28 | |

Minnesota Timberwolves

Nine losses in a row. The Timberwolves' rebuild is real, yo.

Last Week (27)

| | |
| --- | --- |
| 29 | |

New York Knicks

For those who care: The Knicks are on pace to match last season's 35-win total sometime in 2017.

Last Week (29)

| | |
| --- | --- |
| 30 | |

Philadelphia 76ers

Tanking.

Times infinity.

Squared.

Last Week (30)