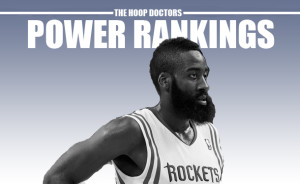 Here's to stability.
Never before, in the year-plus since we've been doing these power rankings, has there been less movement within a week.
Twelve teams are right where they were last week, which is pretty freaking incredible. That's almost half the Association, and that never happens. And, somewhat surprisingly, it's the league's best teams that have held strong. That's saying something considering how top-heavy the Western Conference remains; its playoff picture is the bane of stability's existence. There are so many good teams, the hottest one changes almost daily. Typically, anyway. But, again, not this time.
In other news, the Warriors are still good, even after falling to the Grizzlies, who are also good; the Sixers are back where they belong (the bottom); the Thunder are climbing ladders; the Rockets are inexplicably incredible; and the Hawks look nothing like the Hawks of the last decade, which is a good thing.
Now, bid your responsibilities farewell for the next five minutes. It's power rankings time.
*Welcome back to The Hoop Doctors' PG-13 NBA Power Rankings, where almost anything goes. Language may sometimes not be suitable for those reading at work, in which case I recommend you don't read these aloud or you get a new job. Like most PG-13 movies, we'll permit one F-bomb per post. Those devoid of a sense of humor need not proceed.
***For a week by week list of all our NBA Power Rankings this season, please visit this page.
NBA Power Rankings
| | |
| --- | --- |
| 1 | |

Golden State Warriors

Yeah, it's still them.

Last Week (1)

| | |
| --- | --- |
| 2 | |

Memphis Grizzlies

Starting to believe in their offense, which, ya know, is pretty freaking crazy.

Last Week (2)

| | |
| --- | --- |
| 3 | |

Houston Rockets

Nothing about the Rockets' season makes sense. NOTHING, I TELL YOU. Kudos to Kevin McHale for one of the NBA's best coaching jobs.

Last Week (3)

| | |
| --- | --- |
| 4 | |

Portland Trail Blazers

Noticing that Terry Stotts likes to substitute a lot of bench players at once. Not a fan of that. These Blazers are still a second-unit contributor or two shy of being able to run hockey-style rotations.

Last Week (4)

| | |
| --- | --- |
| 5 | |

Cleveland Cavaliers

Slowly, surely the Cavaliers are climbing. Don't expect them to dip outside the top seven for rest of the year.

Last Week (5)

| | |
| --- | --- |
| 6 | |

Toronto Raptors

Not even a little bit sure how the Raptors are so successful. Sooooooooo balanced. Just a team playing like a team. Good stuff.

Last Week (9)

| | |
| --- | --- |
| 7 | |

Los Angeles Clippers

Really, really want to see Clippers acquire a wing scorer. Wilson Chandler or Gerald Green would be perfect for this team.

Last Week (9)

| | |
| --- | --- |
| 8 | |

San Antonio Spurs

Still waiting for the Spurs to get healthy. Until then, they're just a top-10 team, with a really good defense that is, therefore, underachieving.

Last Week (5)

| | |
| --- | --- |
| 9 | |

Atlanta Hawks

HAWKS AREN'T MEDIOCRE ANYMORE. HOLD ON WHILE I STREAK DOWN THE STREET BUCK NAKED.

Last Week (10)

| | |
| --- | --- |
| 10 | |

Oklahoma City Thunder

Oklahoma City will wind up being the most dangerous No. 8 seed in NBA history, which is scary for both other playoff teams and the Thunder themselves.

Last Week (15)

| | |
| --- | --- |
| 11 | |

Washington Wizards

If the Hawks keep Spurs-ing, and the Raptors keep Masai Ujiri-ing, and the Cavaliers keep scoring, and the Bulls get their shit together, where does that leave the Wizards?

Last Week (11)

| | |
| --- | --- |
| 12 | |

Chicago Bulls

It's been, like, six seconds since someone called foul on Derrick Rose's return. That's improvement.

Last Week (12)

| | |
| --- | --- |
| 13 | |

Dallas Mavericks

This team has been scary bad against good Western Conference teams. That, in turn, is not good.

Last Week (8)

| | |
| --- | --- |
| 14 | |

New Orleans Pelicans

At this writing, Anthony Davis has the Pellies in the playoffs.*

*Subject to change in the next two seconds.

Last Week (14)

| | |
| --- | --- |
| 15 | |

Milwaukee Bucks

Jabari Parker, NOOOOOOOOOOOO.

Last Week (19)

| | |
| --- | --- |
| 16 | |

Phoenix Suns

Phoenix needs to trade one of its three point guards. Not sure which one, but the offense is disjointed and the team needs size bad.

Last Week (13)

| | |
| --- | --- |
| 17 | |

Miami Heat

Injuries, man.

Last Week (17)

| | |
| --- | --- |
| 18 | |

Brooklyn Nets

Brooklyn seems forever stuck in place. Too good to fall out of the playoff picture entirely, too expensively built to hold a fire sale.

Last Week (22)

| | |
| --- | --- |
| 19 | |

Sacramento Kings

Handling of Mike Malone's departure was bullshit. The "why" of it all is understandable; the "when" and "how" sucked major ass.

Last Week (16)

| | |
| --- | --- |
| 20 | |

Orlando Magic

Orlando has been super fun. This will be one of helluva defensive team once Aaron Gordon is healthy.

Last Week (21)

| | |
| --- | --- |
| 21 | |

Denver Nuggets

Kenneth Faried has been a major disappointment, and this squad really needs to start thinking about making an aggressive play for a legitimate star.

Last Week (18)

| | |
| --- | --- |
| 22 | |

Los Angeles Lakers

Kobe Bryant passed Michael Jordan for No. 3 on the all-time scoring list, effectively meaning we're almost out of reasons to watch the Lakers.

Last Week (24)

| | |
| --- | --- |
| 23 | |

Indiana Pacers

Lance Stephenson back in Indiana? Yes, please. Would render the East's playoff picture more fucked up than it already is.

Last Week (23)

| | |
| --- | --- |
| 24 | |

Boston Celtics

Honestly have no idea what to make of the Celtics. All I can say is Rajon Rondo's jumper still hurts to watch after all these years.

Last Week (20)

| | |
| --- | --- |
| 25 | |

Utah Jazz

At what point do the Jazz try to move Trey Burke?

Last Week (25)

| | |
| --- | --- |
| 26 | |

Charlotte Hornets

Charlotte's offense should come with a disclaimer. Ahem: Watching us (try to) score may result in syphilis.

Last Week (26)

| | |
| --- | --- |
| 27 | |

Minnesota Timberwolves

If the world takes Andrew Wiggins from us like it took Jabari, I will go on a teeth-gnashing spree.

Last Week (28)

| | |
| --- | --- |
| 28 | |

Detroit Pistons

Train wrecks don't get any more laborious than Detroit's. Watching this team—especially on offense—is a struggle. Would rather spend hours upon hours tweezing Stan Van Gundy's nose hairs.

Last Week (30)

| | |
| --- | --- |
| 29 | |

New York Knicks

My god, the Knicks are bad. But at least there's a plan in place: sign star free agents—the same star free agents who are looking at this season thinking "Helllll no."

Last Week (29)

| | |
| --- | --- |
| 30 | |

Philadelphia 76ers

"Ah. It's good to be back home." -Sam Hinkie

Last Week (27)