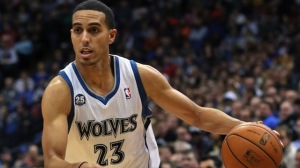 On paper, the Timberwolves aren't a terrible team but unfortunately a 7-37 record does not back that argument up. To their credit, they've been without Kevin Martin for most of the season due to a broken wrist. It looks like Martin has healed and is ready to return to the lineup. He hasn't seen live game action since November 19, so expect some rust.
Kevin Martin plans to play tonight against Boston at Target Center, his first game back since he fractured his right shooting wrist against New York on Nov. 19, according to sources with knowledge of his health.

He had hoped to make his return last Wednesday against Dallas, but awoke that morning with it significantly swollen.

He had fluid drained from it on Thursday and has had a compression brace on it since then.
H/T: Star Tribune