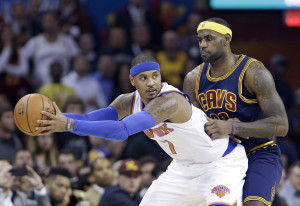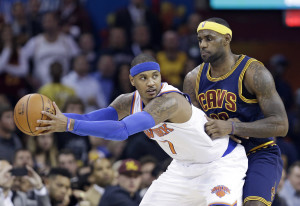 LeBron James is sympathetic towards his buddy Carmelo Anthony's situation with the Knicks.
This is to say, he feels bad that Anthony finds himself immersed in a dumpster fire.
Ahead of the Cavaliers' ugly, nail-gnawing win over the Knicks Thursday night, LeBron commented on the debacle Melo faces in New York, per Newsday's Jim Baumbach:
The Cavaliers star said on Thursday that he feels bad for good friend Carmelo Anthony because of the Knicks' rough start. Not bad enough to give him an inch with the game on the line, though.

"I always feel for a friend of mine that goes through losing," James said before his team's 90-87 victory over the Knicks at the Garden. "You never want to see a friend of yours lose." …

… "I have so much for me to figure out on this side, it's hard for me to just think about what he's going through, even though I see it," James said. "You know I want him to win. Obviously, I don't want him to win against us."
Though I tend not to feel bad for NBA players and their on-court issues—off-court misfortunes are obviously different—one can certainly feel for Melo and the shitstorm he's caught in. The Knicks are awful, and they're off to their worst start in franchise history. And while they were expected to struggle, no one truly saw them as a team that was only a couple games better than the 76ers. The triangle, however manipulated, wasn't supposed to impede them this much this early. As incomplete and unpolished as the roster is, there's more talent on the docket than the Knicks' record suggests. That's neither an excuse nor defense. It's just a fact. The Knicks have individuals who can play. One would expect them to find a synergistic balance, however slight, at some point.
But it's hard to feel too bad for Melo at the same time. He had every opportunity to leave for greener pastures over the summer. He remained loyal instead. His, though, was a loyalty steeped in market exposure, family life, salary and off-court revenue. The prospect of forever being remembered as the star who helped end the Knicks' four-decade-long championship drought no doubt factored in, but it was one of many factors. It was not the sole force behind his return. Painting him as some New York purist is taking it too far.
Luckily for the Knicks, they play in the Eastern Conference, where no team is ever totally bilked of hope. Despite their horrendous start, the Knicks are only 5.5 games back of the final playoff spot. There is still time for them to turn things around.
Maybe.
Quite possibly.
If they're lucky.
Which, to date, they haven't been.
Dan Favale is a firm believer in the three-pointer as well as the notion that defense doesn't always win championships. His musings can be found at Bleacherreport.com in addition to TheHoopDoctors.com.