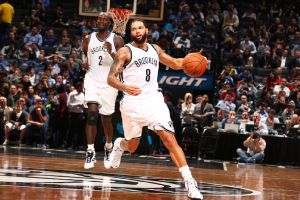 Sure.
Mike Malone is no longer the coach of the Sacramento Kings for stylistic reasons, mainly the fact that ownership and management want the team to run fast. So, naturally, in the post-Malone era, that's led them to targeting a trade for the Brooklyn Nets' Deron Williams, a former All-Star with paper ankles and spongy calves.
Here's the latest trade rumblings from Mr. Trade Season himself, Adrian Wojnarowski of Yahoo Sports:
The Brooklyn Nets and Sacramento Kings are discussing a deal centered on former All-Star guard Deron Williams, league sources told Yahoo Sports.

The Nets have been shopping their high-priced star players, and the Kings have been probing the market for an impact point guard.

No deal is imminent, but the talks are ongoing, sources told Yahoo Sports.

The talks have centered on sending the Nets point guard Darren Collison and forwards Derrick Williams and Jason Thompson as part of a multi-player package for Williams, league sources said.

Sacramento has significant interest with Williams, but a hurdle to a possible deal is the Kings' desire to have center Mason Plumlee included into the package, league sources said. Brooklyn has considered Plumlee a significant part of its future core. …

The Nets' partnership with Williams has become increasingly fractured over the past two years, and the idea of a breakup has appeal for both sides, sources tell Yahoo.
That's not a bad deal for the Kings on the surface. They're acquiring a polarizing point guard for basically spare parts, in what is yet another sign of how far Williams' value has plummeted.
But the numbers for Darren Collison and Williams aren't that much different. Williams is a better three-point shooter and, again, a former All-Star, but their points and assists averages are close to identical this season. Williams is also on the wrong side of 30 and costs nearly four times as much per year as Collison. That the Kings are interested in him piloting their (hopefully) high-octane offense for the next two-plus seasons is weird. It would, however, certainly make the Kings more interesting, putting them on the Western Conference map through name recognition alone.
And perhaps that's enough for this team. The Kings, despite the presence of DeMarcus Cousins and Rudy Gay, aren't a hot free-agency destination. They're also not flush with cap space moving forward, though they—like the rest of the NBA—should have wiggle room come 2016, when the salary ceiling explodes.
The Kings aren't ones to shy away from risk either. Gay wasn't considered the best acquisition last season, yet he's been coming along nicely. They also have a budding talent in Ben McLemore, and if they're able to land Williams without forfeiting draft picks or Nik Stauskas, that's a win in itself.
This squad definitely needs to do something that nudges the needle. That's not up for debate. They're stuck in the middle and aren't built for a playoff berth in the brutal Western Conference. Adding a former All-Star in Williams should, theoretically, elevate their ceiling. But given his health and topsy-turvy play over the last couple years, his arrival would be just as risky—if not more so—than anything else the Kings's current regime has done.
Dan Favale is a firm believer in the three-pointer as well as the notion that defense doesn't always win championships. His musings can be found at Bleacherreport.com in addition to TheHoopDoctors.com.