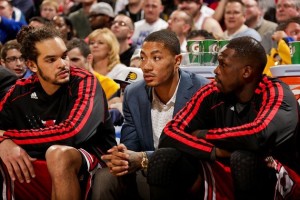 As the Chicago Bulls prepare for their Friday night tilt against the Philadelphia 76ers, the team has released it's latest injury report. Despite playing with dual sprained ankles and scoring 13 points against the Milwaukee Bucks on Wednesday, guard Derrick Rose is once again listed as "questionable" because of said ankles.
He was listed the same way in the Bulls' previous injury report on Monday. It looks like we'll have to play the waiting game with Rose again. Center Joakim Noah is also listed as "questionable" as he's been out with the flu. He last played in the team's victory over Minnesota last weekend.
Pau Gasol has been moved over to center in place of Noah and has done an admirable job. In his last two games Gasol has scored 38 total points and snagged 27 total rebounds along with three combined blocked shots. Losing Noah won't hurt the Bulls too much, but they are always better with both Gasol and Noah on the floor.
Forward Taj Gibson is once again listed as "probable" with a left ankle sprain, but he doesn't seem to be bothered by it. Gibson has started the last two games due to Noah being sick, and he's been a solid performer as he's converted of 15 his last 29 field goal attempts.
The last person listed on the report is guard Jimmy Butler. He's listed as "probable" for two ailments; the sprained left thumb he sustained midway through the preseason, and a right shoulder strain which has gone largely unnoticed.
Especially since Butler is averaging close to 20 points per game in his last three starts. Despite the bumps, bruises, and illnesses, the 4-1 Bulls are on a three-game winning streak since losing to Cleveland on Halloween.
Follow me on Twitter @GabeSalgado82