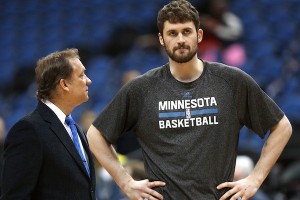 Glen Taylor, owner of the Minnesota Timberwolves, is feeling nostalgic, and this obsession with the past could prevent president and coach Flip Saunders from trading Kevin Love.
According to CBS Spors' Ken Berger, Taylor is still wary of dealing Love, fully aware this reeks of the same bad juju that went down between the team and Kevin Garnett:
Talks between the Warriors and Timberwolves have remained stuck on the notion of including Thompson in the deal, and also on an even more important factor: Timberwolves owner Glen Taylor's indecision over whether he's ready to move forward with trading Love ahead of his 2015 free agency. Earlier this month, Taylor said in an NBA TV interview that his "preference" is that Love comes to training camp with Minnesota and plays with the team next season.

"And I'm sure he will," Taylor said.

Two league sources told CBSSports.com this week that Taylor remains hesitant to trade Love, still stung by the aftermath of the trade that sent Kevin Garnett to Boston in 2007. The team has won more than 30 games only twice in the seven seasons since.

"I don't think Glen Taylor wants to do the deal," one of the people familiar with the discussions said.
This is, no doubt, a hangup. But is it THE HANGUP?
That honor might belong to Andrew Wiggins' contract situation. The Cleveland Cavaliers signed him to his rookie deal, which means they cannot trade him until late August. If he's actually on the table, and you're the Timberwolves, how do you turn that down? Even if you don't want to trade Love?
Securing the No. 1 overall pick—and last year's No. 1 overall pick in Anthony Bennett—is a gamble you have to make. No exceptions. Those are building blocks you can lock down for the next few years. Assuming the whole rookies-always-sign-extensions-with-incumbent-teams trend continues, the Timberwolves are looking at six or seven—or more years—of cornerstone stability.
None of this, quite obviously, is ideal. Of course the Timberwolves don't want to trade Love. He's a top-10 superstar with the potential to vault himself into the top five. Nothing about trading Love is going to feel good.
But at some point the Timberwolves, Taylor included, will have to bite the bullet. Maybe it won't be during the offseason, but Love needs to go. He has to.
Next summer, if he's still with the Wolves, he's going to leave. Losing him for nothing is worse than losing him for something. That's what this comes down to. And Taylor is smart enough to know this. He's been here before. He knows superstar loyalty runs only so deep. Garnett forced Minnesota's hand, and now Love is doing the same.
The Timberwolves haven't made the playoffs in 10 years, and that's not going to change anytime soon—with or without Love, but especially without him. The next best thing is restarting this rebuild the right way by stockpiling assets and moving forward.
Love is a member of the Wolves for now. He may even be with the team to start next season. He, in theory, could finish the year with them. But he doesn't help them move forward. Love, like Garnett, is already part of their past, something Taylor will come to accept if he hasn't already.
Dan Favale is a firm believer in the three-pointer as well as the notion that defense doesn't always win championships. His musings can be found at Bleacherreport.com in addition to TheHoopDoctors.com.