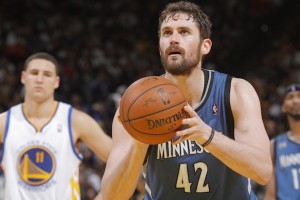 The Golden State Warriors and Minnesota Timberwolves are discussing a trade for All-Star Kevin Love.
Again.
From Jon Krawczynski of the Associated Press, via MassLive.com:
The Minnesota Timberwolves and Golden State Warriors have reopened trade talks for All-Star forward Kevin Love, a person with knowledge of the situation told The Associated Press on Tuesday.

With most of the NBA in Las Vegas for summer league games, the two sides have had a chance to meet face-to-face to talk about a deal mentioned as a possibility for more than a month. The person requested anonymity because both teams are not publicly commenting on trade discussions.
Marc Stein of ESPN.com also dropped some intel on the matter:
The Timberwolves and Warriors have continued to discuss a Kevin Love trade, but the teams remain unable to agree on the framework of a deal with Golden State still unwilling to include Klay Thompson, according to sources close to the process.

Sources told ESPN.com that Wolves owner Glen Taylor and Warriors counterpart Joe Lacob have maintained a level of dialogue on a potential trade of Love to Golden State, which sources insist would have been clinched by now if Golden State — at the behest of new coach Steve Kerr — relented on their refusal to part with Thompson.
*Sighs violently*
*Bangs head against table he's writing on*
*Unplugs toaster*
*Runs a bath*
*Plugs in toaster*
*Jumps into said bath with said plugged in toaster*
Forgive my little, suicidal tangent. It's just that this is getting ridiculous. Strike that, it is ridiculous.
The Warriors still won't give up Klay Thompson. The Timberwolves still want Klay Thompson. Meanwhile, the Cleveland Cavaliers are inching in on Golden State's territory. But they won't give up Andrew Wiggins for Love. And wouldn't you know it, the Timberwolves want Wiggins for Love.
This is all going to end very bizarrely. I can sense it. The Timberwolves may eventually have to relent and accept whatever teams are slinging, even if it doesn't include a Thompson or Wiggins. That's just a fact.
Flip Saunders and company have lost leverage this side of the NBA draft. The threat of other teams dangling insanely valuable draft picks is gone. The Cavs have the closest thing to that kind of offer, and that's only because they have Wiggins—who, by the way, they won't trade. Did I mention that?
Source: GS coach Steve Kerr called Klay Thompson recently to reiterate how excited he is to coach him & added not worry about trade rumors.

— Marc J. Spears (@SpearsNBAYahoo) July 15, 2014
Love is a flight risk no matter where he goes. That's part of the problem. Possibly all of it.
He could go to the Warriors, get bounced in the first round and decide to leave. He could be traded to the Cavs, get sick of playing third fiddle to Kyrie Irving and LeBron James and leave in free agency. That's what every team has to be fearing.
Well, most teams. Clubs like the Los Angeles Lakers and the New York Knicks—neither of whom have the assets necessary to trade for Love—are probably hoping the Timberwolves permit him to reach free agency so they can get an unimpeded crack at him.
Not that this matters. The Warriors, even without Thompson, still have the strongest package out there if the Cavs aren't dangling Wiggins. They know this, hence the delay and stubbornness and the unruly amount of rumors we can expect to slog through between now and the end of kingdom come or Love's departure.
Whichever comes first.
Dan Favale is a firm believer in the three-pointer as well as the notion that defense doesn't always win championships. His musings can be found at Bleacherreport.com in addition to TheHoopDoctors.com.