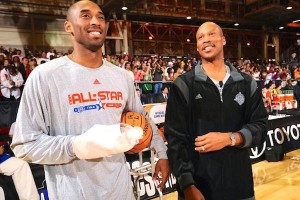 Kobe Bryant will see all the NBA free-agency rumors ever and raise you one Los Angeles Lakers coaching endorsement.
Speaking at a press conference during his annual basketball camp in Santa Monica, the Black Mamba offered a ringing coaching endorsement on Byron Scott's behalf, per ESPN Los Angeles' Dave McMenamin:
Kobe on Byron Scott: "He was my rookie mentor … We've had a tremendously close relationship throughout the years"

— Dave McMenamin (@mcten) July 9, 2014
Asked if he wants Byron Scott to be the Lakers coach Kobe says "yep"

— Dave McMenamin (@mcten) July 9, 2014
Scott has emerged as the favorite to land Los Angeles' job—a pseudo favorite, if you will. The Lakers are clearly delaying any hires until they know what happens in free agency and they can better tailor the coaching transaction to meet the roster's needs.
At this point it doesn't look like the Lakers will be working with much roster-wise. Neither Carmelo Anthony nor LeBron James appears ready to up and join the Purple and Gold, meaning they'll likely preserve cap space for summer 2015, when stars like Kevin Love, LaMarcus Aldridge and Rajon Rondo are expected to become available.
Thinking in those terms, it's best for the Lakers to hire someone who appeals to free agents. Or, you know, they could roll with the Mamba. He will be forced to lumber through another season of losing unless the Lakers use their cap space on a bunch of different impact players.
Though extensive spending seems unlikely if Melo and LeBron sign elsewhere, Kobe left us wondering if the Lakers were, in fact, planning to forfeit stacks of cash this summer no matter what.
Kobe on a Plan B: "We have several options. Depending on the timing of this process if effects some of those."

— Serena Winters (@SerenaWinters) July 9, 2014
Kobe: "Plan B is a solid plan. You just have to play the waiting game a little bit and see what things shake out."

— Serena Winters (@SerenaWinters) July 9, 2014
Color me intrigued.
Color Scott basically hired, too. He's the safe bet. The Lakers know that Bryant likes him and Scott is familiar with the organization both as a former player and employee. Given who else is out there, the Lakers aren't going to do any better. While he doesn't bring the credentials the Lakers typically seek, he's a defensive-minded head honcho that expertly coaches point guards and boasts the ability to help aging veterans—looking at you, Kobe—adjust and adapt their games to coincide with progressing physical limitations.
That he's been to the playoffs, and even the NBA Finals (ah the New Jersey Nets glory days), only helps his cause. Toss in the complete lack of appealing candidates and it looks like the Lakers have found their next coach.
He gets along with Kobe, knows a thing or two or 700 about defense and he's better than any alternative.
You know, unless Phil Jackson decides to abandon his post with the New York Knicks. Or Gregg Popovich decides to desert the San Antonio Spurs.
Or Red Auerbach comes back from the dead.
Dan Favale is a firm believer in the three-pointer as well as the notion that defense doesn't always win championships. His musings can be found at Bleacherreport.com in addition to TheHoopDoctors.com.