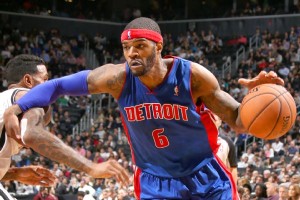 Always, always count on the Sacramento Kings.
You can't count on them to win or even rebuild properly. But you can always count on them to make whatever ride they're taking you on one helluva adventure.
Nothing is changing as we approach the NBA draft. The Kings are in full Kings mode, according to ESPN.com's Marc Stein, who says they could acquire Josh Smith from the Detroit Pistons, in a move that may or may not be Rajon Rondo-driven:
One source insists nothing imminent, but I'm told Pistons and Kings have discussed a trade that would send Josh Smith to Sacramento

— Marc Stein (@ESPNSteinLine) June 24, 2014
One potential scenario, I'm told, would send Smith to Kings for Jason Thompson and Derrick Williams. Jason Terry might be another option

— Marc Stein (@ESPNSteinLine) June 24, 2014
No word deal is imminent (yet) but Sacramento's well-known fondness for Rajon Rondo would help explain Kings' interest in his buddy JSmoove

— Marc Stein (@ESPNSteinLine) June 24, 2014
Immediate focus for Kings, though, is dealing No. 8 pick, which looks increasingly inevitable between now and Thursday's draft proceedings

— Marc Stein (@ESPNSteinLine) June 24, 2014
Yes, please.
Housing DeMarcus Cousins, Rudy Gay—who just opted into the last year of his contract—and Smoove would be so freaking Kings. To hell with offensive consciences, semblances of restrained shot selections, efficient shooting and floor spacing. Screw it. We don't need it. We're the Kings.
Now, Gay played well during his brief stint in Sacramento, and Boogie spaces the floor nicely for a big man, but cooooooome on people. Let's not pretend like this isn't one of the most wacky ideas ever.
Stein would later provide more on this, while reemphasizing the Rondo angle:
Skeptics will inevitably question whether the Kings should indeed take the gamble of trying to fit Smith in alongside Cousins and Gay, especially with three years and $40.5 million remaining on Smith's contract from the Pistons last summer and in the wake of his struggles playing alongside Detroit big men Andre Drummond and Greg Monroe.

Sources say that the Kings, though, have been giving the swap serious consideration, largely because the deal would not cost them any players in their long-term plans and would also add a versatile and athletic defender to a roster that badly needs one, answering coach Mike Malone's call for more help on that end.

Another potential bonus is Smith's close relationship with Boston Celtics point guard Rajon Rondo, whom Sacramento has reportedly been targeting in trade talks for some time.
I'm not saying this is crazy enough to work, but in the realm of crazy, this seems pretty workable.
Rondo apparently rejected a trade to the Kings ahead of the February trade deadline last season. Playing alongside Cousins and Gay wasn't enough. Add J-Smoove to the fold and the Kings may be in business.
Smith and Rondo are documented friends, and it wasn't long ago Rondo was trying wanted the Boston Celtics to trade for Smoove. During the last few years of Smith's stay in Atlanta, the rumors were cyclic. Rondo and the Celtics wanted Smith.
This would be Rondo's chance to play alongside him. Is it enough for him to give the Kings a long-term commitment? Go with no.
There's a chance he softens his chance, but only if 1) he's actually traded to Sactown and 2) the Kings play well. They dwell in the freakishly competitive Western Conference, and a core comprising Rondo, Smith, Gay and Cousins, while wonderfully weird, might not get it done.
We also have no idea as to whether the Kings could trade for Rondo if he became available. The Smoove trade would have to go down prior to the draft, and then the Kings would have to use Ben McLemore, their No. 8 pick and perhaps Isaiah Thomas in a sign-and-trade to get the ball rolling.
(Update: I've talked myself into that offer, provided the Celtics take another contract filler to make salaries work.)
If that's enough to grease the wheels of this funky fiesta, well, then, hot damn, let this happen.
Now.
Please.
Dan Favale is a firm believer in the three-pointer as well as the notion that defense doesn't always win championships. His musings can be found at Bleacherreport.com in addition to TheHoopDoctors.com.