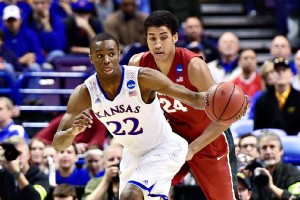 Passive. Shy. Polite.
Quiet.
All of those words could have been used to describe NBA draft prospect and Kansas Jayhawks alum Andrew Wiggins a few weeks ago. But now he's turning those assumptions typically associated with moderate NBA success inside out and exuding confidence and bravado and outspokenness we never really saw while he was at Kansas.
Take his most recent comments.
Bob Wolfley of the Journal Sentinel was told the following of Wiggins by an NBA scout:
"He's an elite athlete and a great on-ball defender," said the scout. "I think he will be a very good shooter in the NBA. I have questions about his ball-handling and his ability to get past defenders in our league in the halfcourt. I'm also not sold on his basketball IQ. He does some of the same moves a lot of the time and didn't make the right reads against defenses. The other major concern I have is whether he has a killer instinct and whether he can be a star."
Wiggins was asked to respond to that assessment, so he did. Brilliantly, I might add:
"I think I'll be a star wherever I go. That's just how confident I am in my ability."
If words and verbal self-confidence counted as killer instinct, Wiggins would be a heartless murderer poised to wreak havoc and hell and poster-dunks on the NBA next season. Words are just words, though. They help us gain insight into a player's persona and how he carries himself, but it's what he does on the court that defines him.
Watching Wiggins on the court, the guy is a stud. Someone who, eventually, will be able to do everything and anything—pass, defend, shoot, drive, score, run the floor, etc. The work ethic is there and the sheer athleticism is there.
The killer instinct is what has everyone doubting his ability.
Me? I don't. I also thought Keith Van Horn could be more than the Mr. Rodgers of the NBA, though, so take that for what it's worth.
This kid is just too talented not to wind up being something special in the NBA. Maybe he's not the second coming of LeBron James, but maybe he's someone who can help us bridge the gap between King James and the next all-world, all-everything player. It's possible, which is why I'm stunned he's trickled down so many draft boards.
One year ago, he was the unchallenged No. 1 pick. There was him, a trillion feet of empty space and everyone else. Jabari Parker and Joel Embiid—and to a lesser extent Dante Exum—have changed all that. But Wiggins is still the ultimate get in this year's draft.
Parker's defense makes you wonder if the Carmelo Anthony comparisons are valid, in that his methods of prevention are somehow worse. Embiid is strikingly similar to Hakeem Olajuwon in many ways, but anytime a behemoth suffers some kind of back injury, it's a blood-red flag. So Wiggins is still the guy.
If the Cleveland Cavaliers don't take him at No. 1, it's because they traded their pick. Or because they're of the mind they still have a chance to sign LeBron, who, in theory, may not want to play with his "clone."
Or because they don't understand that Wiggins, like he says, is going to be a superstar—faster and more prominent than anyone else in this incredibly deep draft class.
Dan Favale is a firm believer in the three-pointer as well as the notion that defense doesn't always win championships. His musings can be found at Bleacherreport.com in addition to TheHoopDoctors.com.