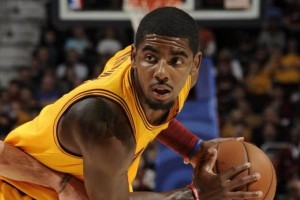 Cleveland is back.
To being indecisive and dysfunctional.
Apparently.
Order and optimism and hope were briefly restored to the Cleveland Cavaliers when they won the NBA draft lottery for the second year running and third time in four seasons. Everything was cool—close to cool at least. That No. 1 pick would make them attractive enough to land a first-rate coach. It would be appealing for free agents. LeBron James' return suddenly wasn't out of the question. Things between the team and Kyrie Irving would be fiiiiiiiine. So stop worrying.
Luck of the pingpong balls changed everything.
Luck of the Ping pong balls…Very exciting!!!

— Kyrie Irving (@KyrieIrving) May 21, 2014
Days later, it appears to have changed nothing. Not pertaining to Irving's future in Cleveland.
According to the New York Daily News' Mitch Lawrence, the Cavs don't plan to offer their franchise point guard the max contract extension he's eligible for this summer:
The Cavs are making noises that they aren't going to offer Kyrie Irving "max money" this summer via a long-term extension. They don't want to deal the 2014 All-Star Game MVP, but it could come to that, especially if the West Orange product and his family continue to tell people that he wants out. Irving hasn't been a leader in his first three seasons and he's also gained the unwelcomed reputation as a locker-room problem. Those are two reasons the Cavs don't see him as a max player.
Under no circumstance is it ridiculous to see Irving as less than a max contract player. Let's be clear on that. He hasn't won anything. The Cavs have had the lowest winning percentage in the NBA since he entered the league. He's hardly durable. There are obvious concerns.
At the same time, what are there other options?
Irving isn't going to stay in Cleveland if they don't offer him a max extension, because he knows someone will. If the Cavs come at him with anything less the max, he's going to decline, play out next season and come next summer, if they don't offer him one then, he's going to want out. Whether he has to play through 2015-16 to reach unrestricted free agency or forces a trade, he's not going to stay in Cleveland without a max deal. Bet on that.
If the Cavs want to ensure they don't lose him, they have to offer it. They must. If they're not sold on him, then it's understandable. And for all Cleveland has done wrong, skepticism would be understandable at this point.
Reports have continued to surface that Irving isn't happy in Cleveland. He's denied them, of course, but it took quite a while. He also hasn't come out and flatly said he has no plans to leave.
Sick to my stomach with all these rumors and accusations. Can I play without media guessing at my life and putting B.S out for headlines.

— Kyrie Irving (@KyrieIrving) April 5, 2014
It brings nothing but negativity to the team and portraying me as something I'm not. I don't want or need the attention, so it can stop now.

— Kyrie Irving (@KyrieIrving) April 5, 2014
At least be man or woman enough to come and ask me. There's no such source as "Kyrie's camp", nothing but nonsense.

— Kyrie Irving (@KyrieIrving) April 5, 2014
Reading between the lines is a dangerous game, one filled with reaching and speculation and inferences and unfounded conjecture. We cannot say with absolute certainty that Irving wants out of Cleveland. We just can't.
But the Cavs cannot say he's hell-bent on staying either. The last thing they want to do is commit money to a player who may not be worth it to begin with and, worse, doesn't even want to be there. That's what the Cavs will be dealing with this offseason.
Summer, one way or another, just got whole lot hotter in Cleveland.
Dan Favale is a firm believer in the three-pointer as well as the notion that defense doesn't always win championships. His musings can be found at Bleacherreport.com in addition to TheHoopDoctors.com.