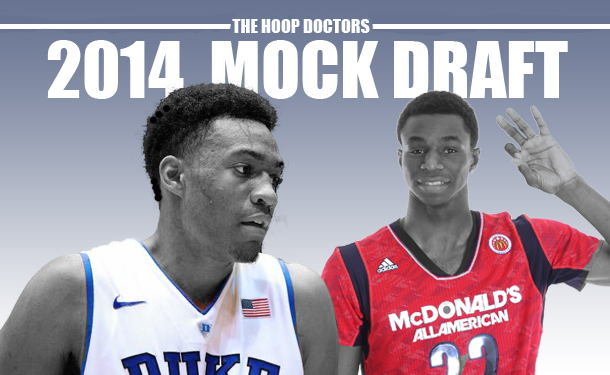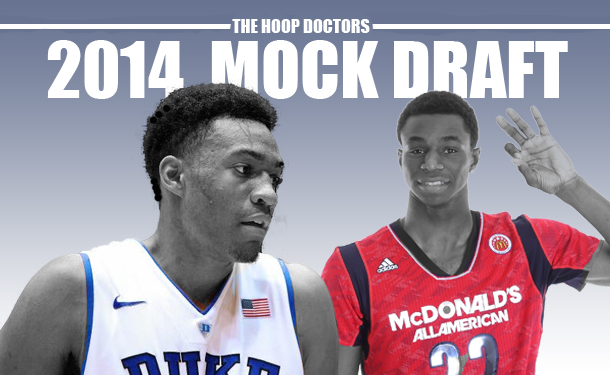 We are now just a month away from the highly anticipated 2014 NBA Draft.
Following a surprising NBA Draft Lottery where Cleveland snagged the top overall selection for the 2nd consecutive year, we can now begin to formulate our newest Mock Draft based on team needs.
The top tier obviously includes a trio of talented freshmen, Andrew Wiggins, Jabari Parker, and Joel Embiid, but how the top 3 picks will unfold depends squarely on the health of Kansas center Embiid.
There are several of other value picks in the top 15, including Kentucky forward Julius Randle, Creighton's Doug McDermott, and Oklahoma State's Marcus Smart.
Most experts agree that this should be one of the deepest crops of potential draftees in years, so even late drafting teams like Miami, OKC, and San Antonio should get some impact players for next season.
These are only my choices and not the consensus picks of all of The Hoop Doctors writers, with that said here is my 2014 Mock Draft:Version 4.0.
Draft Order
College Team
Player
Position
Physical

1.

Cle


 Kansas
Joel Embiid

C
7'0   250lbs   Freshman

If healthy, Embiid is hands down the #1 pick.  Pairing Kyrie Irving with the Hakeem Olajuwon clone would make quite the intimidating duo in the Eastern Conference going forward.  If anything shady comes up in his medical, Wiggins could be in play here.

2.

Mil


 Duke
Jabari Parker

 PF
6'8   235lbs   Freshman

Assuming that Embiid is taken, the Bucks need a player that can put up points immediately and can be paired in their rebuilding efforts around the Greek Freak, John Henson, and Brandon Knight.  Cleveland is always a wildcard at #1 and if they get spooked by Embiid's medical, Wiggins or Embiid could be in play at #2 as well.

3.

Phi


Kansas
Andrew Wiggins

SF
6'8   200lbs   Freshman

Tanking apparently will pay off in Philly as they will wind up with the remainder of either Wiggins or Parker at #3.  Wiggins was their target all along and they could be lucky enough for the player with the most upside to fall into their laps because of team need.  If Embiid is still available here, Philly would be foolish to take a gamble on another injured center following the Bynum disaster and Noel sitting out last season.

4.

 Orl

Austrailia

Dante Exum

 PG/SG
6'6   195lbs   Intl

Exum is this year's International man of mystery but many project him in the mold of Anfernee Hardaway as an athletic PG with offensive capabilities.  Pairing Exum with Victor Oladipo could shore up the Magic backcourt for a decade.

5.

Utah


Arizona

Aaron Gordon

SF/PF
6'9   225lbs   Freshman

The Jazz are set at PG(Burke), SG(Hayward and Burks), PF(Favors), and C(Kanter), so the uber athletic Gordon fits in well at SF, since he will probably struggle to defend bigger frontcourt players at the next level.  Marcus Smart could also be an option here if the team is unsure about re-signing Hayward long term.

6.

Bos


Indiana

Noah Vonleh

PF/C
6'9   250lbs   Freshman

One of the fastest risers in the draft, Vonleh has vaulted ahead of Julius Randle in most Mocks and is probably the best player available when the Celtics draft at #6.  Vonleh measured the largest hands at the Combine and could push Jared Sullinger for starting PF duties or play some at center against a small line-up, a la Chris Bosh in Miami.

7.

LAL


 OK State
Marcus Smart

PG
6'3   230lbs   Sophomore

Despite getting in some trouble in his sophomore season at OK State, Smart projects as a difference maker from either the PG or SG position in the pros.  His intensity, leadership, muscular frame, and high basketball IQ should mesh well with Kobe and the new look/rebuilding Lakers.

8.

Sac


Kentucky

Julius Randle

 PF
6'9   250lbs   Freshman

Not sure why Randle is slipping, but he appears a good fit alongside fellow former Wildcat DeMarcus Cousins in the Kings frontcourt.  Randle has been compared to a more athletic Zach Randolph but there are some concerns that he is too left hand centric.  Grabbing a player at his age, size, and ability this late in the 1st Round is a no brainer.

9.

Cha


Michigan

Nik Stauskas

 SG
6'6   215lbs   Sophomore

Not many players have improved from freshman to sophomore season than Stauskas, who went from 3 point specialist to one of the most talented offensive players on the board.  He has prototypical size for the SG position and fits well in the rapidly rising Hornets, who made the postseason for the first time in years this past season.

10.

Phi


 Creighton
Doug McDermott

SF
6'7   220lbs   Senior

If Philly takes Parker at #3, they may go in a different direction, but it's no secret that reigning NBA ROY Michael Carter-Williams needs more talented offensive players around him.  Enter one of the college ranks' most prolific scorers nicknamed "McBuckets", who could get major minutes from day one as a rookie.

11.

Den


 UCLA
Zach Lavine

 PG/SG
6'6   180lbs   Freshman

Dubbed the 2nd coming of Russell Westbrook because of some insane athleticism, Lavine is still rough, rugged, and raw after just one season with the Bruins.  He would be a great fit alongside budding star Ty Lawson in the Nuggets backcourt of the future.  Thanks NY Knicks.

12.

Orl


Mich State

Gary Harris

 SG
6'4   205lbs   Sophomore

Considered one of the top SG prospects in the draft, Harris was a key contributor in helping the Spartans advance deep in the NCAA's the past 2 seasons.  Harris would provide excellent depth at the 2 guard position behind Oladipo and potentially Dante Exum.

13.

Min


UCLA
Kyle Anderson

 SF
6'9   230lbs   Sophomore

One of the wildcards of the draft, the 6'9 multi-talented Anderson is nicknamed "Slo-Mo" for a supposed lack of athleticism but he was arguably the most valuable player in the PAC-12 Conference last season.  It appears as if Kevin Love is on his way out of Minnesota so the Wolves should begin to either surround him with more weapons or stockpile frontcourt talent to replace him.

14.

Pho


Kentucky
James Young

SF/SG
6'7   215lbs   Freshman

A sweet shooting left hander with near unlimited offensive potential, Young has favorably been compared to both Brad Beal and even Ray Allen at the next level.  Phoenix would be getting a potential long term starter at either the 2 or 3 alongside Dragic and Bledsoe.

15.

Atl


Wichita St

Cleanthony Early

SF
6'8   215lbs   Senior

One of the top seniors on one of the nation's top teams over the last few seasons, Early is a bit older than most prospects but would be a great fit in Atlanta as they probably are in win now mode with Teague, Millsap, and Horford all returning next season.  Early reminds many of James Posey in his prime.

16.

Chi


UConn

Shabazz Napier

 PG
6'0   175lbs   Senior

Fresh of leading the Huskies to the 2014 National Title, Napier's stock has never been higher.  Some question his athleticism at the next level but he has all of the intangibles to be an outstanding floor general and added insurance policy at PG as Derrick Rose attempts a comeback times 2.

17.

Bos


 Croatia
Dario Saric

 SF/PF
6'10   225lbs   Intl

Boston needs alot and should go in the 15-20 range as some have proclaimed him as the 2nd coming of Dirk Nowitzki, at least against foreign competition.  He has an amazing skill set to play either the 3 or 4 position and has an amazing upside as a stretch 4, perfect alongside one of the NBA's best assist men Rajon Rondo.

18.

Pho


NC State

TJ Warren

 SG/SF
6'8   220lbs   Sophomore

If you want instant offense, TJ Warren is your man.  He was among the nation's leaders in scoring last season and despite only average athleticism, he consistently was a problem to defend at the collegiate level.  Warren make the Suns much more potent in a tough Western Conference and an insurance policy if the Suns cannot resign Bledsoe.

19.

Chi


Duke

Rod Hood

SF
6'8   215lbs   Sophomore

Hood may be the long term answer at the 3 for the retooling Bulls as an athletic wing scorer, with above average defensive skills, and 3 point range.  Once thought of as a Top 10 pick, Hood has slid a bit as late as many now see him as a Rashard Lewis type perimeter threat.

20.

Tor


Syracuse

Tyler Ennis

 PG
6'2   180lbs   Freshman

After a spectacular freshman season at Syracuse, Ennis has parlayed his early collegiate success into a legitimate 1st Round talent.  Ennis is a native of Canada and would be excellent insurance if Kyle Lowery goes the free agent route.

21.

OKC


D-League(UNC)

PJ Hairston

 SG
6'5   230lbs   Junior

The formerly disgraced Tarheel was one of the top scorers in the NBA D-League this season.  He has excellent size, athleticism, and elite perimeter scoring to be the 3rd scoring option the Thunder need to get over the hump and get back to the Finals.

22.

Mem


 Mich St
Adrien Payne

PF
6'10   240lbs   Senior

Prototypical stretch 4 at the next level, Payne comes from playing at an elite program for 4 years, improving his game each season.  He had an outstanding 2014 NCAA Tournament, proving his worth as an athletic PF in the NBA.  With Zach Randolph a potential free agent, Payne could step in and play right away.

23.

Utah


Michigan

Glenn Robinson III

 SF
6'7   215lbs   Sophomore

The son of former NCAA and NBA great "Big Dog" Robinson didn't have the best sophomore season with the Wolverines but tested off the charts at the Combine.  Robinson would fit nicely in the Jazz backcourt as yet another offensive option for star PG Trey Burke.

24.

Cha


Syracuse

Jerami Grant

 SF/PF
6'8   215lbs   Sophomore

As Charlotte's 2nd first round selection, MJ and the Hornets can take a gamble on the uber athletic and still raw forward from Syracuse that could develop into a starter in a few years.  After all, Jerami is the nephew of former Chicago Bulls great Horace Grant, so the NBA is in his genes.

25.

Hou


 Baylor
Isaiah Austin

 PF/C
7'1   225lbs   Sophomore

Austin has the size and length to be an elite player in the NBA, at least on the defensive side of the ball.  But in his 2 years at Baylor he struggled to add weight to his slight frame and it was revealed that he is partially blind in one eye.  With that being said, he's a legit 7'1, with a 7'6 wingspan, that has 3 point shooting capabilities, an excellent change-up to Dwight Howard in the post.

26.

Mia


Louisiana-Laf


Efrid Payton

PG
6'4   185lbs   Junior

Payton has been on the NBA's radar for a few seasons and is a big, athletic, point guard that many experts have compared to Rajon Rondo.  Miami has a decision to make with free agent to be Mario Chalmers, as Norris Cole and Payton could be the PG tandem of the future in Miami.

27.

Pho


Bosnia

Jusuf Nurkic

 C
6'11   280lbs   Intl

Immense size and low post presence, two things in need in Phoenix.  Miles Plumlee was good but better served as a reserve.  Nurkic is getting a ton of 1st Round love as a Nikola Pekovic clone but with better mobility.

28.

LAC


OK State

Markel Brown

SG
6'5   185lbs   Senior

One of the best athletes on the collegiate level, Brown was often overshadowed by his highly touted teammate Marcus Smart.  He tested through the roof at the Combine and would be a perfect infusion of youth into the Clippers backcourt.

29.

OKC


Missouri

Jordan Clarkson

 PG/SG
6'4   185lbs   Junior

While his final set position in the pros is to be determined, Clarkson is an elite athlete that can play either backcourt position.  OKC is notorious for taking a chance on athletic perimeter players, a la Reggie Jackson…………enter Clarkson.

30.

SA


 Tennessee
Jarnell Stokes

 PF
6'8   260lbs   Junior

Possessing massive size for the PF position, Stokes as potential as an elite rebounder off the bench, a la DeJuan Blair a few seasons ago.  Stokes would be a perfect late 1st Round pick for a contending team like the Spurs, adding youth to an aging roster.
Allen Moll has been a lifelong NBA and NCAA College Basketball fan who watches and studies games religiously, and coaches youth basketball in his native Lehigh Valley region of Pennsylvania. Allen has also provided content to Bleacherreport.com, Upperdeckblog.com, Cleveland.com, CSN Philly.com, Buckets Magazine, in addition to being a tenured NBA and NCAA columnist for TheHoopDoctors.com.