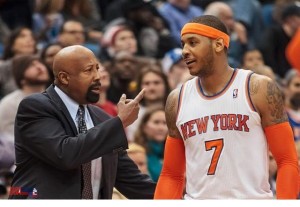 Phil Jackson apparently wants the world if he's to sync up with the ever-dysfunctional New York Knicks.
Rumors have flooded the airwaves, papers and Internet, most of them pointing toward the same thing: a union between the Zen Master and championship-starved, James Dolan-owned Knicks.
But with all that's going around, you'd have expected it to be a done deal. Except it's not. To the best of our knowledge, Jackson hasn't provided any guarantees. It appears the Knicks are operating under the assumption that he's prepared to join them, but that's the Knicks. They assume everything of other people.
They assume Rajon Rondo will force his way from the Boston Celtics to New York. They assume their business model isn't mangled beyond recognition. They assume Carmelo Anthony wants to re-sign and remain in this hellhole they try to pass off as a basketball organization.
Now it seems they're assuming Jackson is in, and he just might be. But before he is, he wants a few things. Chief among his demands are assumed—there's that word again—to be money and autonomy, one of which New York is known for shelling out without pause (money), the other of which isn't in Dolan's vocabulary (autonomy).
According to The Knicks Blog's Adam Zagoria, though, he also wants something else: Anthony.
"He wants a management position and the power to make deals, a la Red Auerbach and Pat Riley," a league source told Zagoria. "If that's not promised, he ain't coming. They'll have to promise him Melo will stay, too. And I don't think they know if he is or not."
This makes sense, and it doesn't make sense.
Jackson called the Knicks "clumsy" and basically insulted Anthony and Amar'e Stoudemire back in 2012, so having Anthony's retention be a deal-breaker is weird.
At the same time, Jackson understands the situation. The Knicks don't have a first-round draft pick this year or in 2016, nor do they have cap space before 2015. And if Anthony leaves, they still have none of those things.
Regardless of what Jackson thinks of Anthony, he knows you need a star to build around. For all his flaws and foibles, Anthony is a star. A top-10 star. It makes perfect sense he would want the Knicks to guarantee his return. Things also change in the span of two or so years. Maybe Jackson's perception of Anthony has morphed into respect and adulation.
Still, the Knicks cannot actually guarantee Anthony stays. That doesn't mean they won't try, but they effectively can't. Anthony has made it clear he will wait until this summer to make his decision. The New York Post's Marc Berman also says Anthony isn't thrilled about New York's courtship of the Zen Master. If he's unhappy or unsure how Jackson's presence will impact him directly, he most definitely isn't going to be handing out assurances.
And so, the drama continues.
Jackson wants the Knicks. We think. Provided they promise Anthony's return. We think. But Anthony isn't prepared to make said pledge. We think. Because he may not even want Jackson around. We think.
Feel free to stop thinking now.
Dan Favale is a firm believer in the three-pointer as well as the notion that defense doesn't always win championships. His musings can be found at Bleacherreport.com in addition to TheHoopDoctors.com.