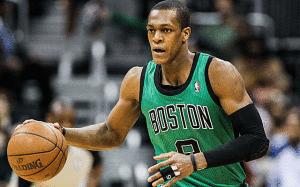 If Boston Celtics owner Wyc Grousbeck has his way, Rajon Rondo won't be going anywhere.
Speculation has run rampant with regards to Boston's future. Trading Kevin Garnett and Paul Pierce opened up the floodgates of conjecture. Would Rondo be next? Would the Celtics re-sign him? Would the point guard leave in free agency?
Almost a year later, with Rondo back from his ACL injury, those questions remain. The earliest they can be answered is this summer, when the Celtics could either trade Rondo (maybe) or sign him to an extension (unlikely). Things could also drag out into 2015, when Rondo becomes a free agent, leaving us all to wonder what he and the Celtics are going to do next.
Grousbeck isn't worried, though. Speaking with The Boston Globe's Gary Washburn, Boston's owner expressed his admiration for Rondo, even comparing him to The Truth:
"I've got confidence that with all these picks and these young guys and our willingness to spend money that we can get there," he said. "We're a patient group. We will take a multiyear plan if that's what it takes. But I think this June there could be some fireworks. I think this June we've got so many pieces to this puzzle that we might be able to shake loose a real piece or two for this team going forward. So, I'm hoping it's sooner rather than later."

The only holdover from the 2008 championship team is point guard Rajon Rondo, whose contract expires after the 2014-15 season and has been the subject of trade rumors the past two years. Grousbeck did not hide his admiration for the four-time All-Star.

"He's loved right here, from my seat on the court," Grousbeck said. "I love the guy. I love his championship ring when he was the young kid. I love his growth. It reminds me of Paul Pierce. Growing from the moments in his younger days and making progress toward being an all-time Celtic and a leader. I am always hopeful that a guy like that is going to stay around."
Homegrown talent remains valuable. It's also an infrequent commodity. Superstars keep jumping ship in order to form powerhouses in bigger markets. The Celtics themselves were beneficiaries of such a trend more than five years ago, when Garnett and Ray Allen came to Boston via trade.
But Rondo began his career in Boston, like Pierce. He is the only remaining player from that 2008 championship team on the roster. That means something.
Rarely do we see a team win a title without having at least one cornerstone it drafted itself. Retaining Rondo keeps in theme with that trend.
The problem is, Rondo, now 28, is at that in-between age. By the time he hits free agency in 2015, he'll be 29, thinking about 30. If the Celtics are still a couple years away from contending again, it could make sense for him to leave.
It could make sense for the Celtics to trade him.
For all his flashy play and assurances of maturity, Rondo and the Celtics may wind up being better off without each other. Their relationship isn't self-destructive, but it's going to be infecund for a while. There is no title to be won in Boston this year or next year, or likely even the year after. Not unless the Celtics stage a free-agency coup of their own in 2015, which is difficult with Gerald Wallace's and Jeff Green's contracts on the books through 2015-16.
All along, I've maintained Rondo won't make it to 2015 with the Celtics, and I'm prepared to be wrong. He could be traded in 2015 or play through next season. He could stay. But I'm not convinced he's going to. This is a marriage that seems destined to end.
Not ugly or bitterly, but at some point, it's going to end, leaving the Celtics to scour the 2014 NBA draft ranks for their next homegrown prodigy.
Dan Favale is a firm believer in the three-pointer as well as the notion that defense doesn't always win championships. His musings can be found at Bleacherreport.com in addition to TheHoopDoctors.com.