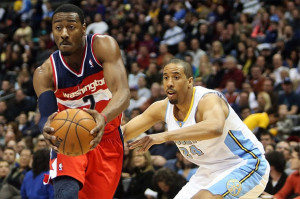 Andre Miller will go down as one of the more under-appreciated PGs of his era. He was never blessed with athleticism or blinding quickness, but he has always been very savvy.
Unforunately, he and Denver coach Brian Shaw never saw eye to eye. That's part of the reason why he's now a Wizard. In Washington, John Wall is now surrounded by assistant coach Sam Cassell and Andre Miller. This move should go a long way for his development.
One of the most bizarre periods in Nuggets history has ended, with the team  having traded disgruntled point guard Andre Miller to the Washington  Wizards.
In the three-team trade, the Nuggets got forward Jan Vesely  and Philadelphia  received  guard Eric Maynor and draft picks.
In another deal, the Nuggets traded swingman Jordan Hamilton to the Houston  Rockets for veteran  Aaron Brooks, fulfilling their need for a point guard.  Brooks had to agree to a trade to be moved.
H/T: Denver Post