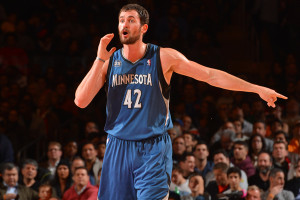 Kevin Love is really good at pointing out the obvious.
During an interview with GQ's Steve Marsh, the Minnesota Timberwolves' 2015 free-agent-to-be was of course asked about his future, which was of course tied to the Los Angeles Lakers, so of course Love was forced to address the issue and of course his response was absolutely epic.
"People think it's so far-fetched that I would stay in Minnesota," he told Marsh. "And I'm not shitting on the Lakers, but we have the better team, the better foundation. I'm having fun."
He kind of is shitting on the Lakers. And who can blame him?
You mean to tell me a 35-year-old injured Kobe Bryant and 40-year-old injured Steve Nash aren't better building blocks than the injured Nikola Pekovic or poor-shooting Ricky Rubio? You don't say.
Truth told, neither team has the perfect foundation. The Lakers are inadvertently awful and now deliberately using that to their advantage, holding a fire sale—miss you, Steve Blake—that's bound to make Kobe cringe. But at least they have cap flexibility moving forward.
Despite being 5.5 games back of the Western Conference's final playoff spot and likely headed for another lottery finish, the Timberwolves aren't cheap. Looking ahead to next season, they're not plummeting toward the depths of financial purgatory, but they don't have the room or even assets to make a trajectory-altering move.
Which begs the question: Will Love still be happy come 2015, when he enters unrestricted free agency?
I don't doubt Love is happy now. David Kahn is gone and he's torching opposing defenses like he's in a video game. I still maintain seeing the Timberwolves give Pekovic that fifth year in his contract over the summer had to sting, but that was months ago. This is now. And right now, Love is playing out of his mind, even if the Timberwolves as a team aren't.
At the same time, what is Love supposed to say? "Not to shit on the Timberwolves or anything, but yeah, I'm gone. Peace out." Would that be pointed enough for everyone?
There's still no guarantee that Love leaves Minnesota in roughly 17 months. There's also no guarantee he stays. Bright lights of big markets catch the attention of superstars. Ask Carmelo Anthony. Or Deron Williams. Ask LeBron James, too, who doesn't play in the largest of locales, but certainly values the climate in Miami.
Once Love hits the open market—and he will hit the open market—there's no telling what he'll do. Well, maybe there is: He's going to Los Angeles. That's a fact. If the Timberwolves don't trade him before then, he's gone. History.
Changing his mind isn't likely an option, because 1) it might not even be made up yet, since this is just a prediction and 2) the Timberwolves are tracking toward a fifth straight lottery finish with him, and 10th overall. Barring a significant, unforeseen roster addition this summer, it's not unreasonable to see that streak hit 11 next season.
This is what the Timberwolves are up against—the natural and incurable limits of their market, and a seeming inability to put the right players around a top-10 superstar.
Not to shit on them or anything, but there's a (stronger than strong) chance this doesn't end well for them.
Dan Favale is a firm believer in the three-pointer as well as the notion that defense doesn't always win championships. His musings can be found at Bleacherreport.com in addition to TheHoopDoctors.com.