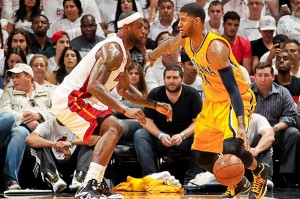 Paul George has enough friends. He doesn't need to invite LeBron James to his next birthday party.
People tend to fuss over these two. LeBron being who he is, and all—face of the two-time reigning NBA champions. And George being who he is and all—face of the Miami Heat's greatest Eastern Conference challenger.
George's rise to top-10 stardom has only fueled this rather passive rivalry. Neither player tends to speak ill of the other, but they're not exactly friends. George himself confirmed as much before the Indiana Pacers' 90-84 victory over the Heat, according to USA Today's Candace Buckner:
It was near the end of the third quarter during Game 2 of the Eastern Conference finals. The two biggest stars on the court exchanged highlight-worthy plays, then exchanged low fives.

The moment looked chummy, but as Indiana renews its burgeoning rivalry with the two-time NBA champion Miami Heat tonight, Pacers small forward Paul George now describes himself and LeBron James as merely competitors and not close friends.

"I mean, it's not much of a relationship," George said about James. "The only time I see him is when we have Nike events or stuff like that.

"It's not too big like in the summers, we go fly out (together) or (I) go hang out with LeBron."
Illusion. Destroyed.
Here I was hoping George and LeBron had family get-togethers over the summer. That they went clubbing, side-by-side, after the Heat won another championship last season. This is horrible news. Worse than the time we all found out the NBA's Atlantic Division teams actually did suck something awful.
Okay, fine. You caught me. This means nothing. At best, it attests to George's character. He never drums up headlines with his words. His play does the talking. That's how we like our NBA superstars. That's why we've come to love LeBron.
If you're one of those sappy, can't-we-all-just-be-best-friends types, find solace in knowing that there appears to be a mutual respect there. Following Indiana's exit, LeBron did indeed congratulate George:
"He just congratulated me on a hell of a season, a hell of a playoff run. Told me to really work coming into this summer and I was going to be someone special in this league," George said about their conversation after Game 7.
Odds are there's some bad blood there. The Pacers are a pain in Miami's behind, and George himself cannot take kindly to constantly looking up at the Heat, even when Indiana is atop the standings.
There's that whole Kevin Durant thing, too. George admitted he would rather cover LeBron than Durant, per Pacers.com's Scott Agness:
Following the Pacers' 118-94 loss in Oklahoma City, George told reporters that Durant is his toughest cover in the league.

"It is," he said. "It is a tougher matchup. I watch their games, I watch a lot of NBA games. And offensively, KD is most of the times he's scoring in bunches off of iso plays and one-on-one plays.

"And when they play against us, he's moving a lot. He's the screener, he's getting back-screened and he's coming off pin-downs and it's a little different when I'm guarding him and it makes it a tougher cover."
More than anything, this was an observation based on how the Oklahoma City Thunder use Durant. It wasn't an indictment on LeBron. Again, George is too smart. He wouldn't poke that beast.
Rather than drumming up some animosity between these two, then, revel in the epic matchups they're going to provide us with. Absence of postgame sleepovers shouldn't prevent you from enjoying those.
Dan Favale is a firm believer in the three-pointer as well as the notion that defense doesn't always win championships. His musings can be found at Bleacherreport.com in addition to TheHoopDoctors.com. Follow @danfavale on Twitter for his latest posts and all things NBA.