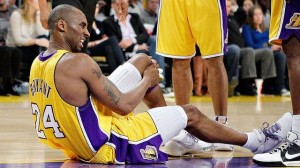 Kobe's magical return to the Lakers lineup was too good to be true. After easing his way back a little over a week ago, the Lakers will again be without Bryant for an extended time.
Bryant is expected to miss 6 weeks due to an unrelated knee injury, according to SI:
The Lakers announced Thursday that Kobe Bryant will be out for six weeks after suffering a fractured lateral tibial plateau in his left knee. If Bryant misses exactly six weeks, he will be sidelined for L.A.'s next 21 games with an expected return date in the last week of January.