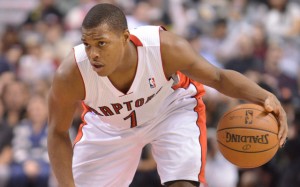 The Knicks have had to deal with injuries all season long and it has impacted both their frontcourt and backcourt. I the backcourt, Raymond Felton has missed some time. Therefore, the Knicks are reportedly interested in Kyle Lowry of the Raptors.
Lowry is a solid NBA PG who has flown under the radar for most of his career. He would be a nice addition.
The New York Knicks are pursuing Toronto point guard Kyle Lowry with a package of Raymond Felton, Metta World Peace and a 2018 first-round draft pick, league sources told Yahoo Sports.

The Knicks refused a Raptors proposal that would've included Iman Shumpert and Felton, sources told Yahoo Sports. WIthout a first-round pick or Shumpert, there is no traction for a deal. The Knicks have no appetite for including Shumpert or rookie Tim Hardaway Jr. in a package.

Knicks owner Jim Dolan is sensitive to the public perception that Toronto general manger Masai Ujiri bamboozled New York in the Carmelo Anthony trade, and the chance of getting panned for giving up too much in a deal for Lowry has become a hurdle in these talks, league sources told Yahoo Sports.
H/T: Yahoo