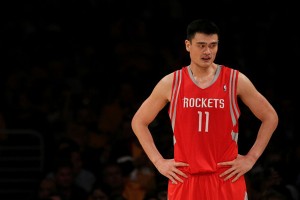 As if you needed any more reasons to adore the towering Yao Ming.
Yao technically spent nine seasons in the NBA, but foot injuries permitted him to play in only eight of those. Then, following a 2010-11 campaign in which played just five games, he retired. Foot injuries. More of them. Not fair.
But while he's no longer a professional basketball player, earning All-Selections because of his global reach and yeah, amazing on-court abilities (when healthy), he's still making headlines. Thankfully. Life without Yao, the lovable giant, just wouldn't feel the same if he weren't a part of the public sphere in some capacity.
Over the summer, he, along with Hakeem Olajuwon and Clyde Drexler, helped the Houston Rockets sell Dwight Howard on joining James Harden, Kevin McHale and Chandler Parsons. As a former big man who spent his entire career in Houston—nay, as a former luminary who's every move was watched around the world in Houston, Yao was a perfect addition to the sales pitch.
Now, he's making headlines for a different reason. A more noble reason. A Yao reason.
According to Adam Century of Sinosphere, the New York Times' China-based blog, Yao is on his third year as a college student, working towards the degree he promised his parents he would get after his basketball career was over:
On class days, Yao Ming, the 7-foot-6 retired N.B.A. center, wakes up at the crack of dawn to beat the Shanghai traffic. Carrying a lunch prepared by his wife, Ye Li, a 6-foot-3 former player in China's professional league, Mr. Yao drives more than an hour to Jiao Tong University, where he sits through his required courses in the economics and management department. According to one Chinese news report, Mr. Yao would prefer to live in the dorms with his 20-year-old classmates, a move that would save time and energy, "but the beds are too small."

"When I signed my first professional contract with the Shanghai Sharks at age 17, I promised my parents that, after my basketball career ended, I would pursue my studies at the university level," Mr. Yao told reporters in Shanghai.

Now in his third year at Jiao Tong University, Mr. Yao is less than two years away from fulfilling that promise.
Look up "awesome" in the dictionary, and you'll find this. Really, you won't. But you should. Because that's how awesome it is.
Let's be honest, would most former NBA All-Stars and global icons return to college to finish their degrees? Of course not. Fame and fortune already in hand, they have almost no reason to. Why go back to school? You're rich. Enjoy it. Party. Buy yachts. Invent a self-cleaning spoon. Do something else. Not college.
As we know all too well, Yao isn't like everyone else—in the best way possible. There's always been this air of humility about him and to know that he's making good on a promise from almost 20 years ago is incredible. And not easy.
Century notes that he's mobbed on campus because of his status. Obviously. Yao's a God. A basketball God.
Soon, he'll be a basketball God with a college degree. Color me crazy, but that's one of the best (and rarest) kinds possible.
Dan Favale is a firm believer in the three-pointer as well as the notion that defense doesn't always win championships. His musings can be found at Bleacherreport.com in addition to TheHoopDoctors.com. Follow @danfavale on Twitter for his latest posts and all things NBA.