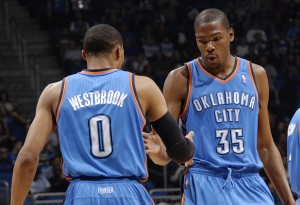 The Oklahoma City Thunder's playoff and finals hopes collapsed abruptly when Russell Westbrook went down with a knee injury on April 24th in game 2 of the Thunder's first round series against the Houston Rockets, after he was sideswiped by then rookie Patrick Beverly. Once James Harden was sent to Houston, many have proclaimed the Thunder's window closed. But, with Westbrook back earlier than expected and Kevin Durant already in mid-season form, do the Thunder still have a legit shot to get back to the Finals?
After the Thunder let All-Star and Sixth Man of the Year (2012) James Harden go, for financial reasons, many, including myself, thought they were done for. But, after seeing the Oklahoma City Thunder early into the 2013-2014 NBA season, we might have closed the book on the Thunder too quickly.
Many suggest the Thunder are pinning their hopes on Jeremy Lamb, acquired in the Harden trade, to emerge and become that third strong scoring option behind Durant and Westbrook, someone who could provide firepower off the bench like Harden and Kevin Martin. At 6'5, 185 lbs., the bright-eyed former NCAA champion (U-Conn) looks like he has the speed and athletic ability to make an impact in the NBA. He'll want to beef up and add some muscle, though, if he has to match up against shooting guards like Kobe Bryant and Dwayne Wade. Lamb can throw it down with authority and drill jumpers from the outside. He may replace Harden perfectly, but will Lamb improve fast enough?
Watch Lamb's Sledgehammer Dunk:
Lamb can most certainly become that third scoring option for them within 2-3 seasons, but will Durant still be in a Thunder uniform? His contract expires at the end of the 2016 season, and experts, like ESPN's Jalen Rose, have already suggested Durant ends up in a Rockets uniform to join his friend and former teammate James Harden and All-Star center Dwight Howard.
But what if Durant stays? If Durant stays, he'll have a seasoned Lamb to work with. And, right now, the Thunder are developing talent, in addition to Lamb, that will help them maintain their performance and roster depth for years to come.
Steven Adams, 7'0, 255 lbs., is a 20 year-old big out of New Zealand who's already grabbed the attention of commentators like TNT's Charles Barkley. And, what's not to love? Adams is active on the glass, alters shots with ease, and he takes up a lot of space in the paint. Maybe as solid, veteran forward Nick Collison (33) ages, Adams can help bring that same type of energy to the Thunder. Between Adams, Kendrick Perkins, and Serge Ibaka, the Thunder's frontcourt could be one of the best defensive frontcourts in the NBA today, right up there with Memphis, Denver, and Indiana, maybe even better.
22-year old Perry Jones III, 6'11, 235 lbs., is a player with a tremendous upside—his amazing athleticism and ability to drive and dunk with ease. But, he's got a number of issues, pointed out in the draft video below, that make him anything but a sure thing, lack of assertiveness for one. Jones also fell on draft day from a projected #7 pick all the way down to #28 because of the potential he might injure his knee at some point and require surgery. Jones is a scary prospect, scary because he could be another useful cog (ala Lamar Odom) for the Thunder, but also since he might be bust (ala Darius Miles).
Perry Jones's NBA Potential:
Finally, the Thunder are also cultivating 23-year old Reggie Jackson, who is going into his 3rd season. Jackson, a 6'3 guard out of Boston College, really emerged last season and in the playoffs, averaging 13.9 ppg on 47.9% from the field and 89.7% from the line. His athleticism and wingspan could make him a good backup for Westbrook.
Goin' to Work with Reggie Jackson:
In the upcoming years, the San Antonio Spurs Tim Duncan will eventually retire, leaving the Thunder's main obstacles the Houston Rockets, the Los Angeles Clippers, and the Memphis Grizzlies. It may be too early to count the Thunder out of making another Finals run.
But, will Oklahoma's youth develop in time to help Durant and Westbrook win it all before Durant is tempted to leave?