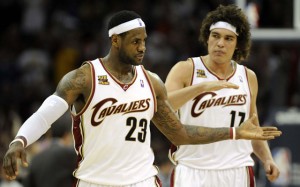 Anderson Varejao must consider himself an optimist. That, or he's blissfully ignorant and overrating the allure of playing for the Cleveland Cavaliers.
LeBron James returned "home" on Thanksgiving eve, just in time to set the table in his Ohio mansion, baste the turkey and carve up his former team. The Miami Heat took down Kyrie Irving's Cavs 95-84 in a game that you never felt Cleveland had a shot at winning. Not even when they stayed within single digits. You just didn't see it.
Beforehand, however, Varejao admitted that he could see LeBron returning to the Cavs, according to the Akron Beacon Journal's Jason Lloyd (h/t CBS Sports):
"It could happen," Varejao said. "Bron is from Akron. Akron is not too far from here. Eventually in his career, he probably wants to play at home."

And then unprovoked, the normally quiet Varejao said he didn't like the way James left the Cavs via the one-hour television special.

"Going back to that, I think the way he left was wrong," Varejao said. "But regardless … He helped me a lot, helped my game and helped me as a person. I have nothing against him. It could happen."
In Varejao's defense, it's most definitely not out of the realm of possibility. Down the road, looking to close out his career where it all started, LeBron's farewell tour could take him back to Cleveland. But we're so far away from that, it's not even okay to think about. Not even in the NBA, where we're constantly looking ahead to free agency two or more years away.
LeBron has a chance to build a dynasty in Miami. While I cannot pretend to know what goes on in his head, I've already said I think he stays through next season at least. After that, I'm on record as predicting he'll land with the New York Knicks in 2015. (I make predictions. Sometimes they're wrong. Deal with it.)
My point is, the Cavs aren't the Heat. Nor do they present perks as a New York- or Los Angeles-based team. Or even Miami. The prospect of playing with Irving could appeal to LeBron, but he's yet to show he can carry a franchise the way Dwyane Wade did. The way LeBron himself does.
Remember, this is a Cavs team that was supposed to contend for a playoff spot. Irving, along with Varejao, Dion Waiters, Tristan Thompson, Andrew Bynum and Jarrett Jack were a playoff core. Players who would show LeBron Cleveland is serious. That they could make the playoffs without him and therefore, be a championship team with him.
But it just hasn't worked out that way. Or even close to that way. The Cavs are struggling and with every win LeBron's Heat procure, he moves further away from the city he left behind more than three years ago. Chances of him returning were already slim, but as you see how much more comfortable, how happy he is in Miami, they now seem almost nonexistent.
"Everyone else can write us off," Irving said after the game, per the Associated Press (via ESPN). "But in this locker room, we believe in each other. We're going to figure this out."
Moving forward, they'll have to figure it out without LeBron.
Dan Favale is a firm believer in the three-pointer as well as the notion that defense doesn't always win championships. His musings can be found at Bleacherreport.com in addition to TheHoopDoctors.com. Follow @danfavale on Twitter for his latest posts and all things NBA.