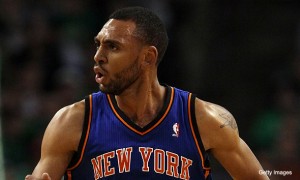 Jared Jeffries is only 31 years old, but he has decided to call it a career. The NBA vet is stepping away from the court and has joined the Denver Nuggets front office. This isn't exactly the type of move Jason Kidd did when he went from player to head coach in a week, but it's still a good move was Jared if he's doing balling.
Jared Jeffries, an 11-year NBA veteran, is transitioning out of his playing career and has accepted a front-office job with the Denver Nuggets, league sources told Yahoo Sports.

He will begin his post-playing career centered on a scouting role, sources said.

Jeffries, 31, has a strong history with new Nuggets general manager Tim Connelly, who worked in the Washington front office when Jeffries played with the Wizards from 2002-06.
H/T: CBS