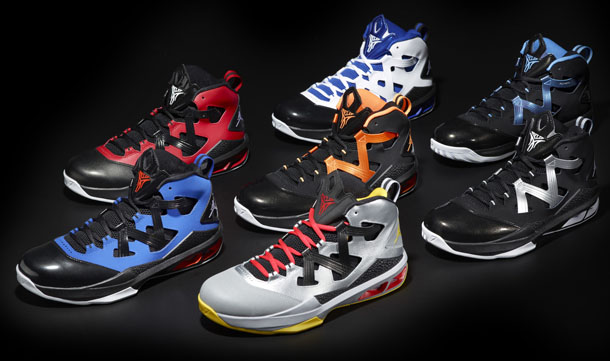 The current favorite for the '12-'13 MVP Carmelo Anthony has made the official switch into a new signature sneaker, the Jordan Melo M9.
Up in Beaverton, Oregon at Nike World Headquarters, Carmelo Anthony stopped in to work on his next signature shoe.  Always aiming to improve on design, the Melo M9 is also the lightest sneaker made for Carmelo yet.  After having his foot rescanned for the first time since his rookie season, Anthony went on to give his preferences for his next shoe.  Voicing that he wanted a slimmer shoe, Nike called upon their Dynamic Fit technology and used an M-shaped Flywire strap which weaves through the top of the upper to provide the more lock down feel.  For cushioning, a maximum-volume Zoom Air unit was called upon.
Inspiration for the Melo M9 design comes from Carmelo wanting this sneaker to look like the armored suit a superhero would wear; form-fitting and sleek.  Other design cues came from his said love for luxury watches, with features on the upper coming straight from tickmarks seen on a watch face.
We got our first look at the Melo M9 in a special colorway during the 2012 Christmas games when the New York Knicks took on the Los Angeles Lakers.
The release of the Jordan Melo M9 comes as a surprise since the Melo M8 Advance debuted during the last few games Team USA played at the Olympics in London this past summer.  With Carmelo Anthony playing in what looks to be his first MVP season, the Melo M9 is in prime position to be in the spotlight for the rest of the NBA season; both regular and post.
The Jordan Melo M9 releases nationwide in stores on January 9th for $140.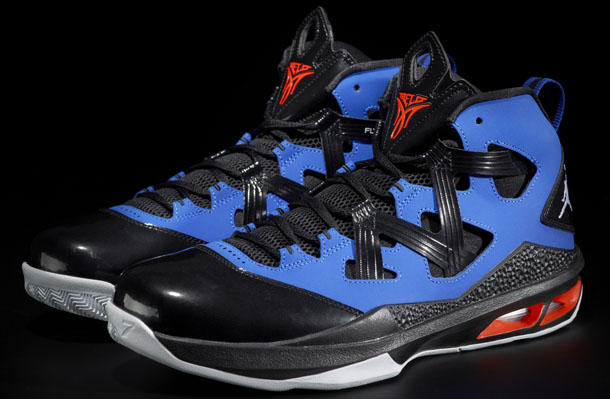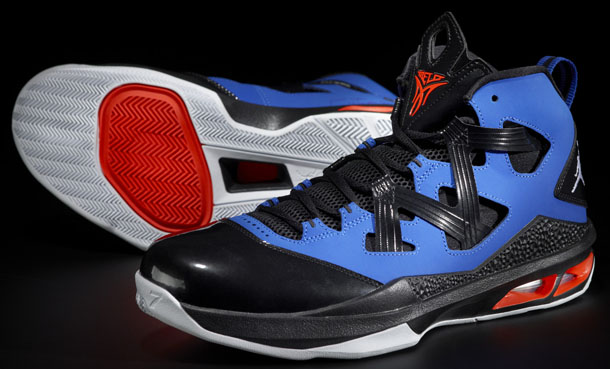 Ben Berry is a writer based out of Orlando, FL by way of Baltimore, MD by way of New York City that grew up in New Jersey. After attending West Virginia University, Ben became involved with The Hoop Doctors and was made an editor and runs the entire Kicks column. Add Ben to a Google+ circle of yours and follow his Twitter feed.
Follow our Kicks section on Twitter: @THDKicks