June 4, 2012 – Ben Berry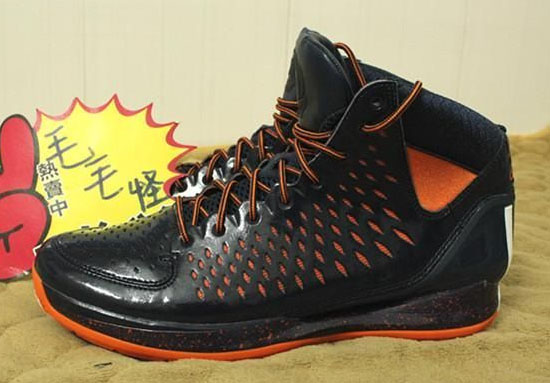 With the unfortunate injuries that plagued Derrick Rose during the shortened '11-'12 NBA season, the adiZero Rose 2.5 did not get nearly as much attention as the signature kicks of healthy players. Always on their grind now, adidas seems to be "on to the next" and that is evident as early images of the next sneaker in the adiZero Rose series are beginning to circulate around the internet.
The 'Chicago Bears' adiZero Rose 3 draws its inspiration from the NFL team in the same city that Rose and the Bulls share. Workboot-style laces are used on this pair which adds for a nice touch and would, no doubt, be strong enough for basketball play. Also the leather used on the inside of the tongue looks of be of high quality which leaves me to wonder as to the materials used on the upper itself. Just like the black/red adiRose 3 shown earlier last week, this pair also has a speckled midsole.
The last time that this colorway was used on a Derrick Rose sneaker was on the fan-favorite adiZero 1.5 back when adidas still used the PureMotion pods on the soles of their basketball sneakers.
I had my doubts on if what many have been calling the adiZero Rose 3 was actually the final product and the version that we would get in stores but as colorways keep popping up of the same shoe there is less and less doubt in my mind about it. Nothing is confirmed by adidas yet however but be sure to keep it locked into our Kicks section because there is no doubt that we'll have that info for you.