December 1, 2011 – Ben Berry

With no professional basketball going on domestically for now and as the temperature steadily starts to drop, basketball fans and athletes alike are having to find new ways to scratch their hoops itch. The competition that comes from basketball video games could definitely be enough to satisfy the biggest of hoop dreams, and no game is more competitive than NBA 2K12. For years sneakerheads have had the enjoyment of watching NBA games as the biggest platform to display sneakers on, so its only fitting that 2K Sports began integrating sneakers into their NBA video game to add another level of authenticity to their basketball series.
Every detail of the actual 'Gucci' Rose 2 is visible on the digital pair. The wood-print design seen throughout the upper is just as noticeable in the game as in real life. All details of the sneaker are seen down to minute things like the gold "1" on the green overlay by the toebox and the color of the words used on the branding. Its little details in video games like this which may seem insignificant to many but adds another dimension to the game for gamers, NBA fans, and sneaker connoisseurs in the know.
adidas adiZero Rose 2 'Gucci' in NBA 2K12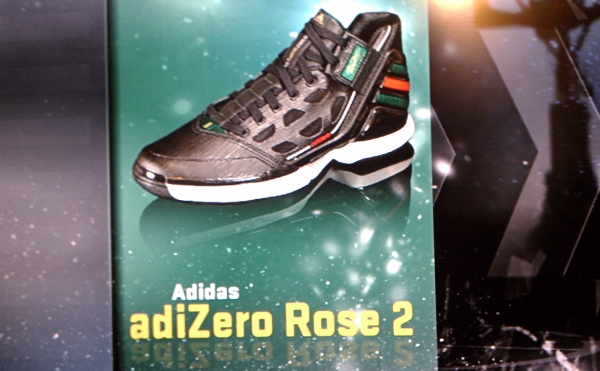 The adiZero Rose Dominate shown in the game is a colorway debuted by NBA 2K12 and features an oreo-like design not unlike the print seen on a pair of sneakers worn by the last MVP to wear a Chicago Bull's jersey. While only one other noteworthy sneaker company uses the cement print, what makes the design noteworthy on the Rose Dominate is that this design makes its debut on Derrick Rose's fourth signature sneaker with adidas and that it was on Michael Jordan's fourth signature shoe, the Air Jordan IV, is what introduced the now iconic cement print to basketball sneakers.

adidas adiZero Rose Dominate in NBA 2K12
More interesting at this videogame "easter egg" is that the adiZero Rose Dominate is now all but confirmed for a 2012 release half way through the stumped NBA season. The Rose Dominate has been rumored to the Derrick Rose's in-game sneaker for the latter half of the season but with no official word from adidas and with only the few sample shots which we showed you back in June were the only info we had on these.
Even though the 'Gucci' Rose 2 isn't in stores yet and the adiZero Rose Dominate hasn't even been officially announced by adidas yet you can still select both at the Footlocker tab in NBA 2K12 which is in stores now.