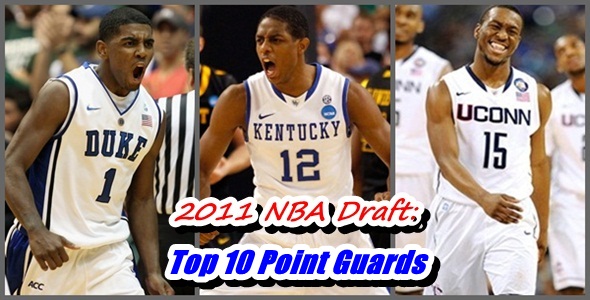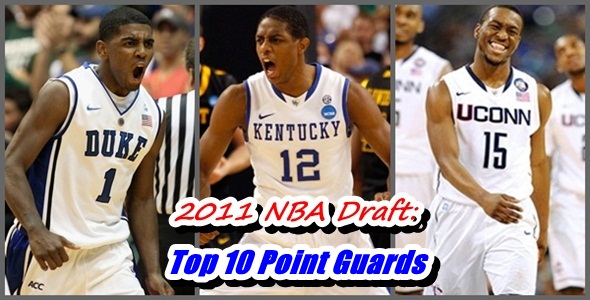 May 11, 2011 – Allen Moll
With a number of top tier players like Jared Sullinger, Perry Jones, and Harrison Barnes pledging to return to school for their sophomore seasons, the 2011 NBA Draft has decidedly gotten weaker. This year's field may be one of the least potent in recent memory, going back to the rather forgettable 2000 Draft which featured Kenyon Martin, Stromile Swift, and Darius Miles as the Top 3 selections.
While the latter parts of the 1st Round and into the 2nd Round may not feature a plethora of game-changing players, it doesn't mean that there aren't some potential All Star caliber ballers at the top. Starting with the Point Guard position, this is the first of a five part series evaluating the Top 10 players at each position.
Top 10 PG Prospects
1) Kyrie Irving, Duke
17.5 ppg, 4.3 ast, 3.4 reb, 1.5 stl, .529 FG%, .462 3PT%, .901 FT%
Projection: Top 3 Pick
While it's rare that a HS player that has played only 11 games at the collegiate level could be regarded as a Top 5 pick, but Irving is just that good. In those 11 contests, he appears to be the total package from the PG position, showcasing 5 star floor general skills like elite level scoring, impressive handles, a high basketball IQ, and above average defense. He won't always make the highlight reel play but will always make the right one. Kyrie showed that there is nothing to worry about concerning his toe injury by nailing a game winning shot then scoring 28 points in consecutive games in the NCAA Tourney. Best PG prospect available.
Comparison: Chris Paul
2) Brandon Knight, Kentucky
17.3 ppg, 4.2 ast, 4 reb, .423 FG%, .377 3PT%, .795 FT%
Projection: Top 10 Pick
The next great PG in Calipari's long history of producing NBA ready floor generals after Rose, Evans, and Wall is Knight. Despite starting slowly Brandon has developed into an elite level shooter with an ever improving handle, matched with outstanding size, speed, athleticism, and above average defensive abilities. The jury is out on whether he will play the 1 or 2 positions at the next level because his shooting skills are way ahead of his ball-handling to this point. During the NCAA Tourney, he has shown the ability to take over a game without being the leading scorer. At only 19 years of age, we have only scratched the surface as to how good Knight can be.
Comparison: Jrue Holiday
3) Kemba Walker, UConn
23.5 ppg, 4.5 ast, 5.4 reb, 1.9 stl, .428 FG%, .330 3 PT%, .819 FT%
Projection: Top 15 Pick
Kemba keeps proving everyone wrong. We all kept saying he was too small, isn't a good enough shooter, and isn't capable of running and leading a team. He proved everyone wrong by helping UConn make arguably the greatest postseason run in NCAA history, sweeping the Big East Tourney and winning the National Title. He exudes star power by becoming an elite level scorer, with playground like handles, and the heart and determination of a champion. Walker has all the skills to be a star at the highest level despite concerns about his diminutive size since he is probably a few inches shorter than his listed height of 6 feet. Comparisons to Iverson are inevitable.
Comparison: Allen Iverson/ Mike Conley
4) Jimmer Fredette, BYU
28.9 ppg, 4.3 ast, 3.4 reb, 1.3 stl, .452 FG%, .396 3 PT%, .894 FT%
Projection: Top 15 Pick
Most teams out West can verify that Fredette is the most potent offensive player in this year's draft. He has swept most NCAA POY Awards as the nation's leading scorer and has scored 30+ points an amazing 20 times this season, highlighted by a 52 point gem in the MVW Semis. While he is an elite level collegiate player, there are questions as to how he will defend opposing guards at the next level. Even though he possesses only an average level of athleticism and struggles a tad on defense, he more than makes up for it with toughness and determination. Although it probably dates me, Jimmer reminds me a bit of former Cavaliers PG Mark Price.
Comparison: Mark Price/ Eddie House
5) Norris Cole, Cleveland State
21.7 ppg, 5.3 ast, 5.8 reb, 2.2 stl, .439 FG%, .342 3PT%, .853 FT%
Projection: Late 1st Round/Early 2nd Round
Norris is the perfect example of a player making the right decision to stay in school. By returning for his senior season, he has steadily increased his all-around numbers to being the lone Division I player to average 20+ points, 5+ rebounds, and 5+ assists. He burst upon the national scene with his 41 point, 20 rebound, 9 assist effort against an opponent in February but his biggest improvement has been his true PG skills, where he was a finalist or the Bob Cousy Award given to the nation's best PG. He's a solid PG prospect with above average offensive abilities and is at his best in pick and roll situations. Some concerns include lack of high level competition, having only average athleticism, and must improve range on his jumper as he doesn't connect on a ton of shots from three. Norris is a 4 star PG prospect, better served as a scorer than facilitator on a team with an already in place superstar.
Comparison: Eric Maynor/Earl Watson
6) Josh Selby, Kansas
7.9 ppg, 2.2 ast, 2.2 reb, .373 FG%, .362 3PT%, .757 FT%
Projection: Late 1st to Early 2nd Round
After nailing a game-winning shot in his first collegiate game and scoring in double figures in 9 of his first 13 games, the bottom fell out for the former #1 overall rated HS player of 2010. He appeared lost and struggled mightily shooting less than 30% from the field and never scoring more than 7 points over his final 13 games. While it goes without saying, scouts will undoubtedly select Selby based on potential and outstanding HS production. He can be an elite level scorer with playground-like handles, and has a penchant for the highlight reel play. One thing in his favor is toughness as not many players at any position have as much fight as Selby. He is a gambler on defense and despite being better suited for off guard, lack of size will force him to play the point.
Comparison: Monta Ellis/Jerryd Bayless
7) Isaiah Thomas, Washington
16.8 ppg, 6.1 ast, 3.5 reb, 1.3 stl, .445 FG%, .349 3 PT%, .719 FT%
Projection: Early to Mid 2nd Round
After playing a majority of his first 2 seasons under coach Lorenzo Romar at two guard, Thomas made a seamless switch to the point for his junior season. While a shoot first floor general, "Lil Zeke" has grown into the role of lead facilitator, averaging a team leading 6.1 assists and taking every big shot in helping the Huskies advance to the 2nd weekend of March Madness. His low center of gravity is key in his ability to split double teams and operate well in the pick-and-roll heavy NBA. He has an exceptional first step and gets to the free throw line at an above average rate. On the flip side, lack of size, a tendency to over dribble, and a propensity for bad decision making will see him taken in Round 2.
Comparison: Jameer Nelson/ Nate Robinson
8 ) Darius Morris. Michigan
15 ppg, 6.7 ast, 4 reb, 1 stl, .489 FG%, .250 3 PT%, .715 FT%
Projection: 2nd Round
As arguably one of the most improved players in the nation this season, the sophomore PG increased his numbers across the board on the way to becoming one of the Big 10's best players. Possessing great size for the PG position, Morris is able to overpower most opposing guards, giving him an extreme advantage against most defenders. Although he is prone to a high number of turnovers, Morris has more than doubled his output when it comes to being a facilitator, ranking among the top assist men in the country. With that being said, most scouts agree he needs another year of seasoning after most weren't even sure if he was a PG or SG as a frosh. He needs to drastically improve his outside shooting as he really isn't a threat from behind the arc and must improve lateral quickness to defend quicker PG at the next level. Even though he has more negatives than positives to this point, he insists on keeping his name in this year's draft.
Comparison: Tyreke Evans /Evan Turner
9) Kevin Anderson, Richmond
16.6 ppg, 3.3 ast, 2.8 reb, 1.4 stl, .427 FG%, .408 3PT%, .750 FT%
Projection: Late 2nd Round
Anderson is in the mold of a score first type of floor general. Though not a pure point, Anderson has proven to be a winner, leading Richmond to consecutive NCAA Tournaments. Despite possessing only average athleticism and a rather slight frame, he more than makes up for his shortcomings with heart, desire, dedication, and an amazing knack for scoring. He has an excellent midrange game and is outstanding in pick-and-roll situations, a staple of the NBA. He takes excellent care of the basketball and seems to always be involved when the game is on the line in addition to being an outstanding long range shooter. Defensively there is some concern as to whether he can guard tody's bigger points but held his own in college. Probably a very good, safe option as a back-up point.
Comparison: Jordan Farmar
10) Jacob Pullen, Kansas State
20.2 ppg, 3.7 ast, 2.9 reb, 1.6 stl, .426 FG%, .381 3PT%, .773 FT%
Projection: Late 2nd Round to Undrafted
Standing at 6'0" with just an average build and subpar athleticism by NBA standards, Pullen lacks the physical tools of a prototypical NBA point guard. After being mostly an undersized shooting guard his first 3 seasons for K State, Pullen established a number of career highs last year. After struggling mightily early, Jacob exploded offensively over the last month, averaging 24 ppg and scoring 38 points in his final collegiate game during March Madness. He's only average in creating his own shot and lacks athleticism despite getting to the FT line a ton in college and shoots a high percentage from deep. Jacob has a reputation as a big shot maker and winner in his 4 seasons at K State. Many wonder if Pullen has a future in the Association or is better suited in Europe.
Comparison: Scotty Reynolds/ Jonny Flynn
Other Notables:
Demetri McCamey, Illinois, 6'3, 215 lbs, Senior – Big, beefy PG with excellent shooting ability but questionable foot speed. Faded down the stretch after ranking among nation's best in assist per game and assist to turnover ratio. Lack of athleticism limits defensive abilities. Knows how to run a team
Corey Joseph, Texas, 6'3, 190 lbs, Freshman – Joseph's stock is rising as he has fared well working out in front of NBA scouts. Great outside shooter, excels in open floor, and always makes proper pass, not the highlight reel variety. Outstanding defender, but lacks overall athleticism. Would be prime candidate to return for sophomore season but remains in Draft.
Brad Wanamaker, Pitt, 6'4, 210 lbs, Senior – Heart and soul of Pitt Panthers. Crafty combo guard who will have to play the point if he is to play at the next level. One of handful of players to avg 11 ppg, 5 reb, and 5 ast. Average outside shooter who defends well(1.5 stl). Lack of overall quickness and athleticism hurts in NBA. Great college player.  Philly toughness is a positive.
Reggie Jackson, Boston College, 6'3, 210 lbs, Junior – Led BC in scoring, assists, and steals. Super athletic and prototypical size for NBA PG. Excellent scoring ability with range beyond the arc. Not true PG. Poor shot selection and play-making skills. A bit older but still a work in progress.
Andrew Goudelock, College of Charleston, 6'2, 200 lbs, Senior – One of nation's best scorers and outside shooters. Average footspeed. Projects as combo guard in 6th man role. Despite offensive prowess, major deficiencies on defense. Excellent showing at Portsmouth Invitational(Top showcase for NCAA Seniors).
Malcolm Lee, UCLA, 6'5 190 lbs, Junior – Probably more of shooting guard than point. Played PG 2 seasons at UCLA. Adequate perimeter shooter with excellent size for PG. Bad shot selection and average ball-handling. Poor finisher due to lack of strength. Excellent defender and excels in open floor.
Corey Fisher, Villanova, 6'1, 195 lbs, Senior – 4 year player at Nova. Streaky, yet deadly outside shooter. Playground-like handles with poor shot selection. Shoots too many three's rather than driving and getting fouled. Average athleticism and quickness. Former elite level HS player. Not lacking in confidence department.
Allen Moll has been a lifelong NBA and NCAA College Basketball fan who watches and studies games religiously, and coaches youth basketball in his native Lehigh Valley region of Pennsylvania.  Allen also provides content to Bleacherreport.com, Upperdeckblog.com, in addition to being a tenured NBA and NCAA columnist for TheHoopDoctors.com.