December 20, 2010 – THD Rumor Patrol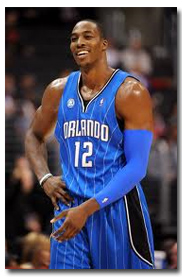 The Orlando Magic General Manager Otis Smith is no dummy. He realizes that Dwight Howard is one of the Top 2-3 most coveted players in the NBA right now. He also realizes his star player has a contract that will expire all too soon. So what does a GM do to try and keep their superstar happy in the interim? Shake things up and put the pieces around him to vy for a championship. Hence the two big blockbuster trades late last week. First, Smith shipped Rashard Lewis to D.C. for Gilbert Arenas, and second he shipped Carter, Pietrus, and Gortat to Phoenix for Jason Richardson, Hedo Turkoglu, and Earl Clark.
The mandate hangs over the Orlando Magic with words spoken and unspoken, an understanding of the ultimate requirement necessary for sparing themselves the devastation of Dwight Howard's departure as a free agent.
"Nothing short of a championship," one league source insists is the burden the Magic are working under to hold onto Howard.
Privately, Magic general manager Otis Smith confessed to his closest associates this week that his franchise's circumstances have become Cleveland and LeBron James all over again. The Magic are burying themselves deep into the luxury tax, taking on risky roster propositions and desperately trying to beat the clock to free agency in 2012. Deep down, Magic officials fear that Shaquille O'Neal long ago crafted the blueprint for leaving Orlando for the bright lights, big city.
For Howard to resist the inclination to test his star power in Los Angeles and New York, the Magic must make it impossible for him to leave. The Magic want him to sign an extension this summer, but that isn't happening. The Magic had a good team, but good won't keep Howard. So this is the reason one of the best teams in the NBA tore apart its roster – trading four of its top six players – and absorbed Gilbert Arenas.
Read more details via Adrian Wojnarowski on Yahoo.com