December 13, 2010 – THD Rumor Patrol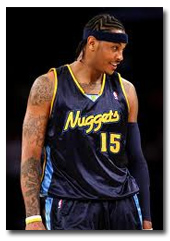 Contrary to the buzz this weekend, Carmelo Anthony is not making demands that he be traded to the New York Knicks as the only way he will sign an extension. Does 'Melo want to play for his hometown Knicks? Sure. But he's not closed off to considering other destinations in his quest to play for a championship team…
Does anyone really believe that Carmelo Anthony would reject a trade to the Lakers, Magic or Bulls?
Yes, his first choice is to play in New York and wear a Knicks uniform. A source in Anthony's camp reiterated to me Sunday night that New York is where Melo wants to be. But the same source refuted an Internet report that claims Anthony would only sign a contract extension if it meant he was being traded to the Knicks.
The Bulls remain a viable option and even the Nets, who are moving to Anthony's hometown of Brooklyn in two years, are in play as well. And there's the option of Anthony re-signing with Denver although I get the feeling that he'll be moved by the February trade deadline.
Read more details via Frank Isola on NY Daily News