December 22, 2010 – Kevin Burke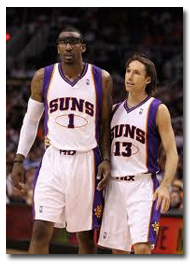 Having a good inside-outside tandem is crucial for success in the NBA. Especially when they know what each other is going to do before they do it. For years, that was the case in Phoenix with Steve Nash and Amar'e Stoudemire. They were quietly one of the best big-small duos in the league. They ran the pick and roll with relative ease and did soflawlessly. But when Amar'e left Phoenix this past summer for Manhattan via free agency, questions swirled around how well they would do apart. Well, so far each is having better years this year than over the past couple which makes you wonder if they are better apart.
For being a superstar in the league, Amar'e gets somewhat disrespected. Some consider him a second tier superstar and thought the Knicks overpaid for him by giving him the max at nearly $100M over 5 years. Heading into the season, many also thought that Amar'e was simply a product of Steve Nash and that he couldn't put up those type of numbers without Nash. Sure, playing alongside Nash definitely helped out Amare's numbers while a member of the Suns. For example, Amar'e led the NBA in points in the paint last year which you can directly attribute to screen and rolls withNash. Steve's penetration also allowed Amar'e to be the benefactor on countless buckets.
Nash on the other hand had a guy who was one of the most fierce down low players in the league. Nash had the luxury of leading Amar'e on those screen and rolls, knowing that Amar'e was gifted and athletic enough to finish by either drawing the foul while using his underrated body control, or by simply just dunking on somebody. Amar'e also has one of the better outside touches (regardless of size) in the league, so Nash was also able to orchestrate the pick and pop with him as well. All of which helped Nash in accumulating so many assists over the past several years. And some of the double teams that Amar'e received also led to some open looks for Nash as well. Basically, each depended on the other to elevate their game, and that's exactly how it should be with an inside-outside combo. They should make each better.
Well, now that Amar'e is in New York, he has somehow put together his best season as a pro so far and has received some early recognition for MVP. He just recently ended his streak of 9 consecutive games of scoring at least 30 points, he is first in 4th quarter scoring and second in the league in overall scoring. He's averaging the most points that he ever has in his career and has proven that yes, he can lead a team. He has certainly silenced the critics and he is doing so without Steve Nash. Granted, he has the help of Raymond Felton who is also having a career year, but that can't compare to the chemistry that Nash and Stoudemire built over the years.
In Phoenix, Nash is averaging the most pointshe has since the 2006 – 2007 season. As I mentioned before, Amare's double teams used to create open looks for Nash, but Steve has somehow managed to up his point production while still taking the same number of shots per outing. Not to mention that he is still averaging double digit assists and is amongst the league leaders in that category at the tender age of 36.
So what does all this mean? You would've thought that these two would suffered some without their running mate, but that doesn't seem to be the case since they are doing better. I don't quite know what to make of it but apparently they didn't need each other after all.
If you're looking for your everyday, predictable basketball talk, then go somewhere else, because Kevin Burke of The Kevin Burke Project brings provocative, thought provoking content about basketball as only he can. Kevin also hosts The Hoop Doctors weekly podcast show, which you can subscribe to for free on iTunes. Follow Kevin on Twitter and Facebook