November 1, 2010 – THD Rumor Patrol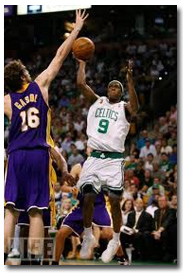 We've talked a lot about Rajon Rondo this week on The Hoop Doctors because of his huge 24 assist game in which he also recorded a triple double. But Pau Gasol has been quietly flying under the radar as a huge performer and leading the Lakers to a 3-0 start while Kobe Bryant is not at 100%. The NBA has given Gasol his due however today announcing his selection alongside Rondo as players of the week….
The Boston Celtics' Rajon Rondo and the Los Angeles Lakers' Pau Gasol today were named the Eastern and Western Conference Players of the Week, respectively, for games played Tuesday, October 26, through Sunday, October 31.
Rondo helped the Celtics to a 2-1 record to start their season, including an opening-night victory over the Miami Heat. The 6-1 guard's week was highlighted by a 24-assist performance in a win over the New York Knicks. In the team's opening three games, Rondo dished out 50 assists, which tied John Stockton (1989-90) for the best three-game start in NBA history. Rondo averaged 10.7 points, 16.7 assists and 6.3 rebounds for the week, while also recording the first triple double of the new season against the Knicks.
Gasol led the Lakers to a perfect 3-0 week, averaging 25.3 points on .525 shooting from the field to go with 10.3 rebounds and 5.0 assists. Gasol opened the season with a 29-point effort in a home win over the Rockets. He also recorded a double-double with 26 points and 12 rebounds in a win over the Warriors on Sunday night.
Read more details including players stats via NBA.com