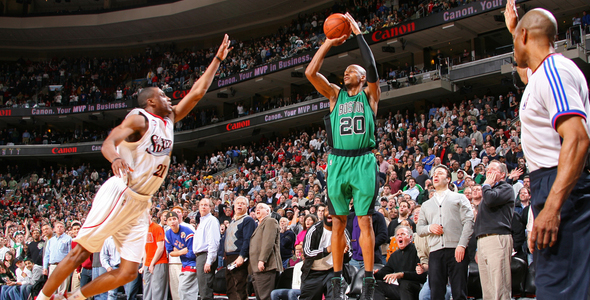 July 22, 2010 – Kevin Burke
Basketball players today are faster, stronger and more athletic than they used to be. Just about everyone in the NBA call pull off a jaw dropping dunk. However, there's nothing better to watch than a guy who is fundamentally sound. More specifically, a guy with a pretty jumpshot. Here are my top 5 prettiest jumpshots in the league today. This doesn't necessarily mean best shooter because the 3-point king, Reggie Miller, was obviously a great shooter but I personally wouldn't say his J is one of the prettiest I've ever seen. Rather, this is a list of guys with nice form and who are also considered good shooters.
#5: Steve Nash
#4: Dirk Nowitzki
#3: Carmelo Anthony
#2: Kobe Bryant
#1: Ray Allen
If you're looking for your everyday, predictable basketball talk, then go somewhere else, because Kevin Burke of The Kevin Burke Project brings provocative, thought provoking content about basketball as only he can. Kevin also hosts The Hoop Doctors weekly podcast show, which you can subscribe too for free on iTunes.