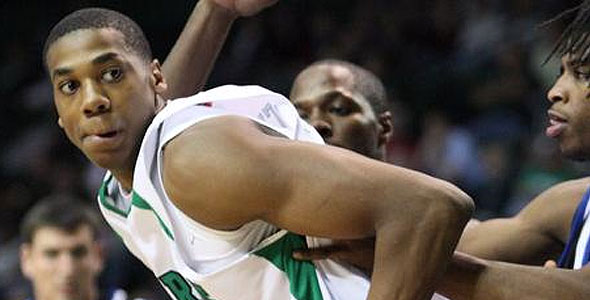 June 17, 2010 – J.P.
NBA Draft Analysis: Hassan Whiteside
Hassan Whiteside may be one of the biggest mysteries in this year's 2010 NBA Draft.  In his one year at the non-BCS school Marshall, Whiteside was able to average 13.1 points, 8.9 rebounds and 5.4 blocks while playing 26 minutes per game.  The amazing aspect about Whiteside is his size as he comes in at an impressive 7-0 and has the best wingspan of any prospect in the draft at 7-7.  The question is why didn't he play at a bigger school given his size and defensive ability?
The deal was Whiteside's didn't start playing basketball until in his teenage years and even came off the bench in prep-school.  He was also barely able to qualify to get into Marshall due to low grades.  He came to Marshall as a project, and after his freshman year won accolades as the freshman and defensive player of the year.  Now the extra raw and thin Whiteside is considered a top 20 pick as mocks have him going anywhere from 5 to 20.  Most see him falling in the 15 to 19 range.
Hassan has many qualities that could make him a great pro, but the cons may be bigger than the pros.  At 5.4 blocks per game, he led the nation in that category easily.  His ability to alter shots when an opposing player comes to the hole is invaluable, but when he gets to the NBA there will be a rude awakening because the players are a lot quicker in their release than the players in the Conference USA.  Although Whiteside is a huge work in progress on the offensive side of the ball, his mechanics are decent and he has been known to pull back and sink 12-15 footers.
Whiteside has a lot of weaknesses and that may be why a lot of teams may decide to ultimately pass on the big man.  Although listed at 7-0, his weight is a slim 235, which puts him in a difficult situation in the paint.  Shorter guys will be able to push him around with ease in the NBA and wrestle away rebounds with no problem given his lack of strength.  In being pushed around, Whiteside is easily frustrated and fouls at a high rate.  A good comparison for Whiteside is Hasheem Thabeet, who was the 2nd pick in the 2009 NBA Draft and has endured his own share of growing pains in his first year in the NBA.
Whiteside has some good qualities and some big weaknesses.  He will do his best to expose his strengths and hide his shortcomings as the draft process continues along.  Given his size and potential, look for him to mesmerize a team into picking him in the mid-first round level, and then hold them hostage until he finally develops 5-6 years down the road.  Some analysts have him at developing at 3-4 years, but since his weaknesses are too much to overcome, he may never develop in the NBA without an NBA team investing lots of playing time and patience in him.