March 24, 2010 – Allen Moll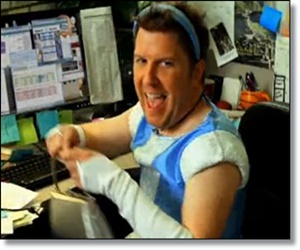 Vitamin Water has partnered with a number of Hollywood celebrities and NBA superstars recently in variety of very funny commercials. Fans and readers of the The Hoop Doctors know that we have been all over their creations by showcasing them right here, like Steve Nash's spoof on the Sham-wow guy. Funny stuff!
Their newest commercial features Nick Swardson, who is a regular in a number of Adam Sandler movies like The Benchwarmers, Click, and I Now pronounce You Chuck and Larry. He probably is most well known for his hilarious role as the roller-skating homo-sexual prostitute in the Comedy Central show Reno 911! Since Vitamin Water is one of the official sponsors of the NCAA Tournament, they have created a series of rather humorous videos featuring Swardson and Kevin Farley, who is the brother of the late Chris Farley.
The first tries to help by giving us a rather unusual way to get out of work to watch all the action of March Madness: The Cinderella Excuse.

Nick Swardson and the Cinderella Excuse – Watch more College Hoopla
Allen Moll is an avid NBA and College Basketball fan who watches and studies games religiously and coaches youth basketball in his native Lehigh Valley region of Pennsylvania.  Allen is a regular columnist for thehoopdoctors.com, Bleacherreport.com, UpperDeckblog.com, and his own site, Hoops Haven.