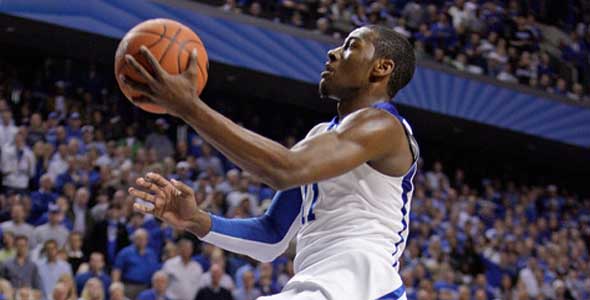 January 6, 2010 – Allen Moll
Allen Moll is an avid NBA and College Basketball fan who watches and studies games religiously and coaches youth basketball in his native Lehigh Valley region of Pennsylvania. Allen is a regular columnist for thehoopdoctors.com, Bleacherreport.com, UpperDeckblog.com, and his own site, Hoops Haven.
Now that the NCAA season is into January and teams start digging into the meat of their conference schedules, we will start to see the cream of the crop of prime time players rise to the top of our NCAA Player of the Year Rankings. Last month, Ohio State's Evan Turner distanced himself as our number one selection. After sustaining a serious back injury after falling from the rim, he has missed most of the Buckeyes games in December. Does that leave the door open for Texas' Damion James or Syracuse's Wesley Johnson to stake their claim on the top spot?
1) John Wall, Kentucky – 17.2 ppg, 3.8 reb, 7.3 ast, 2.4 stl
"The Great Wall of Kentucky" is the best freshman that the NCAA has seen since Kevin Durant. He seemingly gets better with every game and is headed towards the #1 overall pick in the NBA Draft. He has led the 15-0 Wildcats to a #3 ranking while leading his squad in scoring, steals, and assists(2nd in the nation).  Previous – 3
2) Damion James, Texas – 16.5 ppg, 10.9 rebs, 1 ast, 1 blk, 1.8 stl
As one of the most athletic players in the nation, James has helped the #2 ranked Longhorns stay perfect(13-0), while ranking among the nation's leaders in rebounds and the Big 12 in blocks. He should be a lock for an NBA lottery pick.  Previous – 4
3) Wesley Johnson, Syracuse – 17.1 ppg, 8.8 rebs, 2.2 ast, 2 stl, 2.2 blk
The Cuse's top dog has kept the Orangemen overacheiving in the Top 10 by essentially doing everything including leading them in scoring, rebounding, and blocks. No player in these rankings means more to their squad than Johnson. If he keeps this up, he will be a shoo in for a lottery pick.  Previous – 2
4) Jerome Dyson, Connecticut – 20.2 ppg, 5.2 rebs, 5.2 ast, 1.4 stl
Often overlooked in the national picture, Dyson has been the Huskies best player, ranking 3rd in Big East scoring in his return this season after tearing up his knee last year. With Dyson, UConn may have had a shot at a Big East crown. He is one of 5 players in the nation to average 20 ppg, 5 rebounds, and 5 assists. Previous – NR
5) Luke Harangody, Notre Dame – 24.3 ppg, 10.1 rebs, 2.1 ast, 1 blk
"Gody" has been the best player in the country that no one is talking about. He is the only player in the nation to rank in the Top 10 in both points and rebounds. He has the Irish winning(12-3) but they may need to have a few more resume building wins against good teams if he is going to move up on the list.  Previous – 10
6) Cole Aldrich, Kansas – 11.1 ppg, 10.1 rebs, 3.8 blk, 1.3 stl
Cole takes a hit on our rankings because the Jayhawks have so may talented players like Xavier Henry(16.3 ppg) and Sheron Collins(13.8 ppg, 4.2 ast), but there is no doubting that he may just be the most fearsome defensive player in the nation. Even though he ranks only 4th on his team in scoring, he is among the nation's leaders in rebounds and blocked shots. No player is more important to the Jayhawks than Aldrich, who gets their uptempo offense started by his staunch defense. Previous – NR
7) Scottie Reynolds, Villanova – 17.6 ppg, 3.2 rebs, 3.9 ast, 1.5 stl
He is the unquestioned leader on a Nova squad who once again appears on a path to the Final Four. He has a knack for taking and making big shots in his career and is capable of dropping 40 points on an opponent at any time. Look for his numbers to go up since he always heats up once the Wildcats get into Big East Conference play. Previous – NR
8 ) John Scheyer, Duke – 18.8 ppg, 3.7 rebs, 6.4 ast, 1.2 stl
After being a back court role player for his first 3 years at Duke, he has blossomed into their top scorer and distributor. He has averaged 24 ppg and 8 assists in his last 6 games by leading the Blue Devils to a 12-1 record and a #6 ranking. Previous – NR
9) Quincy Poindexter, Washington – 21.3 ppg, 8.3 rebs, 1.6 ast, 1.8 stl
Many fans on the East Coast haven't heard of Quincy, but if the Huskies keep winning(12-3) he will have his squad on national TV as part of March Madness. He along with Isaiah Thomas(18.2 ppg) have Washington among the top teams in the PAC-10 and are the # 24 team in the nation. He has 5 double-doubles and has scored 20+ pts in 9 of 13 games this season. Previous – NR
10) Manny Harris, Michigan – 19.8 ppg, 7 rebs, 4.9 ast, 1.8 stl
Harris continues to be one of the most complete players in the nation by ranking in the top 25 in scoring, rebounds, assists, and steals but drops a few spots because of his team's recent slide (7-6 overall). He has 1 triple-double and has flirted with 2 other this season, while scoring in double figures in every game but one. Previous – 6
Honorable Mention
Elliot Williams, Memphis – 19.7 ppg, 4.4 rebs, 4.1 ast, 1.5 stl
Trevon Hughes, Wisconsin – 16.5 ppg, 5 rebs, 3.1 ast, 1.6 stl
Ed Davis, UNC – 15.2 ppg, 10.2 rebs, 1.3 ast, 2.9 blk
Jimmer Freddette, BYU – 21.6 ppg, 3.1 rebs, 5.6 ast, 1.9 stl
Greg Monroe, Georgetown – 14.8 ppg, 9.8 rebs, 3.5 ast, 1.7 blk
LaceDarius Dunn, Baylor – 17.8 ppg, 3.5 rebs, 2.1 ast, 1.2 stl
Incomplete
Evan Turner, Ohio State – 18.5 ppg, 11.4 rebs, 5.9 ast, 1.5 stl, 1.2 blk
If he can return from injuries, Turner would undoubtedly jump back among our Top 5 players since he was arguably the most complete player in college basketball in his 8 games played where he amassed 8 double-doubles and 2 triple-doubles in his shortened season. Previous – 1