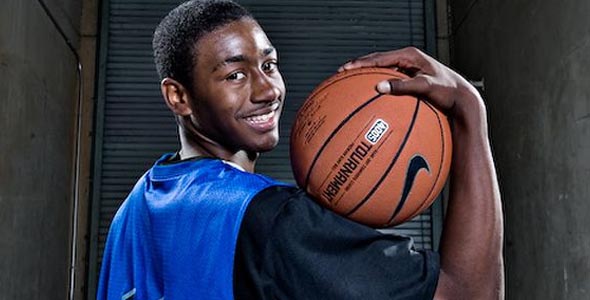 December 18, 2009 – Matt Anaya
Matt graduated from Southern Illinois University at Carbondale in May of 2007 majoring in TV Production. Matt is currently a writer at StaticMultimedia.com, TheBleacherReport.com, NationalSportsNation.com, SportsMixed.com, FanFever.com, Filmcatcher.com, and TheHoopDoctors.com. Matt will provide you with insightful wit and an eager eye for sports.
For more Mock Drafts from all sorts of Blogs and Analysts check out The Hoop Doctors 2010 NBA Mock Drafts Database!
These are only my choices and not the consensus picks of all of The Hoop Doctors writers, with that said here is my 2010 Mock Draft Version 3.0 – Top Prospects:
Draft Order
College Team
Projection
Position
Physical

1.

Kentucky

John Wall
PG
6'4", 190 lbs
John Wall is the clear cut number one pick. He is a combo guard and not a PG because PGs do not stop and pop and attack the rim, SGs do. He is an electric player and in the mold of Tyreke Evans and Dwyane Wade and his shooting ability makes him a better player than Derrick Rose.

2.

Lithuania

Donatas Motiejunas
PF
7'0″, 215 lbs
Donatas Motiejunas has struggled as he went up in classes this season but there is no doubting this kid's talents. He can shoot, run, dribble, and will be one of the best players in the NBA in ten years.

3.

Ohio State

Evan Turner
SF
6'7", 200 lbs
Evan Turner sustained a near devastating injury to his back and will miss another 6-8 weeks. He is a tremendous talent and should have been the Big Ten Player of the Year but his injury will likely ruin his chances. Turner can do a lot of things on the court including shoot, rebound, defend, and facilitate. Even with the injury Turner is still considered one of the best talents in the 2010 draft.

4.

Wake Forest

Al-Farouq Aminu
SF
6'9", 220 lbs
Al-Farouq Aminu is a very talented big man. Comparisons to Luol Deng are slightly off because he is more of a post player. Aminu can run, jump, defend, rebound, and shoot and as a 6'9" big man that might still be growing, he is a very good NBA prospect.

5.

Georgia Tech

Derrick Favors
PF
6'9", 230 lbs
Derrick Favors has been playing well in his Freshman season and has not done much to hurt his stock. He is a huge talented althletic big man that can do a lot of things and he will be drafted on potential alone. He has a very high ceiling and might be taken as high as the second pick in the draft.

6.

West Virginia

Devin Ebanks
SF
6'8", 200 lbs
Devin Ebanks can do a lot of things on the court including run, jump, and rebound. GMs are hoping the rest of his game will come together by the age of 25 and is another draft pick based on potential and supreme athleticism.

7.

UNC

Ed Davis
PF
6'10", 230 lbs
Ed Davis is one of the best big men in college, as he has tremendous upside and has a great understanding for the game and his position. He likes to play in the post, is a true big man, has a very high ceiling and might end up near the top of the draft.

8.

Georgetown

Greg Monroe
PF
6'11", 245 lbs
Greg Monroe is also one of the best big men in college as he is a natural scoring big man that can do everything you want a post player to do. He can score, rebound, and pass and any questions about his game have been silenced with his much improved sophomore season.

9.

Kansas

Xavier Henry
SG
6'6", 210 lbs
Xavier Henry is another great SG prospect to come out this year. It was Tyreke Evans last season and this year it is Wall, Henry, and Lance Stephenson. Henry is one of the strongest SGs to come out in a long time and he does not belong in the college game. He will likely be one and done and produce right away for an NBA team.

10.

Cincinnati

Lance Stephenson
G
6'5", 200 lbs
Lance Stephenson shot up our draft board as he showed a wide array of pro moves against Xavier on Sunday night. He shook a few defenders off the dribble and made a great play finding a wide-open shooter on the wing. If he tries to facilitate all season long his draft stock will soar near the top of the board.

11.

Texas

Avery Bradley
G
6'3", 180 lbs
Avery Bradley has dropped a little on our board but it is only because other players have asserted themselves. Bradley is 2nd in MPG on the Longhorns and has some nice stats (47% FG, over 2/1 A/TO, over 1 SPG) as a Frosh but oddly shoots only 45% FT. He is a super freak athlete and might be a top five pick next season.

12.

Syracuse

Wesley Johnson
SF/PF
6'7", 195lbs
Wesley Johnson is having a great year for the Orange. A solid guard prospect due to his height, length, and shooting ability and he reminds us of a Wayne Ellington type. Ellington was drafted near the end of the first round last season but Johnson is a much better athlete and defender and will likely be a lottery pick.

13.

Iowa State

Craig Brackins
PF
6'10", 230 lbs
Craig Brackins is a very talented scoring big man. He can do everything offensively but lacks the other skills and intangibles that make the good players great. He does not rebound as much as scouts would like and refuses to defend. You get drafted because of your offensive game and let's hope Brackins can develop his game even further as a professional.

14.

Oklahoma

Willie Warren
SG
6'4", 200 lbs
Willie Warren averages nearly 20 PPG as a super sophomore and might stay another season in school. OU will be much better next season and World Wide Willie might average nearly 25 PPG next season. His stock might rise a lot next season but it might stand still this season. Still, Warren is a very talented although short SG prospect. If he can learn how to handle the rock better his ceiling would drastically improve.

15.

UNC

John Henson
PF
6'10", 200 lbs
John Henson is as talented as a big man has been at the ripe age of 19. He can run, jump, and has a lot of potential but is struggling in his freshman year at UNC. If he stays he will likely be a top 5 pick next season and it is beginning to look like he will stay.

16.

Kansas

Cole Aldrich
PF
6'11", 250 lbs
Cole Aldrich is limited offensively and that is why he is so low on our draft board. He is a great defender, not as good as Hasheem Thabeet, but he can rebound better and has a Kevin Love like outlet pass. He is a great college player and teammate and will be a lottery pick but we have other players higher because they have better potential. Aldrich will never wow you offensively but he will defensively and will be a Joel Przybilla type in the NBA, which is a compliment.

17.

Kentucky

Patrick Paterson
PF
6'8", 223 lbs
Pat Patterson can thank his teammate John Wall for having his stock raise this high. Some people PP is the next great big man but we think his stock is high only because his teammate makes him look good. PP cannot do many things offensively or defensively but does play good defense and makes high percentage shots.

18.

KK Partizan Belgrade

Jan Vesely
PF
6'11", 240 lbs
Jan Vesely is a 6'11" big man from Czech Republic who likes to play all over the court. His offensive game reminds me of Andrei Kirilenko but he will never be a defender like AK47. Vesely is a fun player to watch and is the 2nd best international player eligible for the 2010 draft.

19.

VCU

Larry Sanders
PF
6'10", 220 lbs
Larry Sanders is an unknown to most outside of VCU. He is Ben Wallace/Tyrus Thomas/Shawn Marion/Julian Wright type who can do a lot of things well but what position will he play in the NBA? He protects the rim as well as anyone in college and will be a good defender at the next level but his offensive game is lackluster.

20.

UTEP

Arnett Moultrie
PF
6'11", 220 lbs
Arnett Moultrie is a new comer to the board and has been receiving a lot of publicity this season. Although only averaging 13 PPG and seven RPG, Moultrie impressed at last year's U19 championships playing for Team USA. He can do a lot of things offensively and we cannot wait to find out more about him.

21.

Kentucky

DeMarcus Cousins
PF
6'10", 250 lbs
DeMarcus Cousins is improving his play but not his attitude. If the kid thinks he can whine and complain his way to the next level, ask Big Baby Davis how fun that route is. DeMarcus Cousins has gotten better every game and is now averaging 14 PPG, eight RPG, and over two BPG. He has always dominated because of his size and it is up to him if he wants to be an NBA player.

22.

Fresno State

Paul George
SF
6'7", 190 lbs
Paul George started out high on our draft board but has sunk lately but it is not because of his abilities but because of everyone else's abilities. He is in a rough SG class for players not named Wall, Warren, and Henry, I mean Avery Bradley cannot even crack the list. George can do it all offensively as he is averaging 17 PPG, nearly eight boards a game, and has gone 42-46 from the FT line.

23.

Oklahoma State

James Anderson
SG
6'6", 200 lbs
James Anderson has really filled up the scoring book this season. He averages over 20 PPG and grabs over six boards a game and is doing it as the leader of a good OKST team. Anderson has a great body, listed at 6'6" 210 LBS., and will likely be drafted on size alone. His skills are good but he only shoots 30% from 3PT range and will likely stay in school another season.

24.

Florida State

Solomon Alabi
C
7'1", 230 lbs
Solomon Alabi is not very good yet. He is a total project at this point in his life but he already going to be 22 years old in March. Scouts will keep trying to give this kid with no offensive game or IQ another shot but there is little to brag about with Alabi. He is huge, long, and is averaging over two BPG but he should be averaging more. He leads his FSU team in scoring but only at 11 PPG and he should be near 60% FG but he is only at 55%.

25.

UCLA

Malcolm Lee
PG/SG
6'5", 190 lbs
Malcolm Lee is a very nice PG prospect although he probably thinks he is a SG. Listed at 6'4", Lee is shooting a dreadful 38% from the field, only 24% from three point range, and only 62% from the charity stripe. Needless to say Lee would not be an NBA prospect if not for his great A/TO ratio and over one SPG.

26.

Texas

Damion James
PF
6'7", 225 lbs
Damion James is averaging a double-double this season and is doing it for one of the best teams in the nation. He leads UT in MPG, PPG, RPG, SPG, and is second in BPG. James is will likely only be a glue guy in the NBA but every championship team needs one, right?

27.

Duke

Kyle Singler
SF/PF
6'9", 210 lbs
Kyle Singler is limited offensively and will never be the next Mike Dunleavy like all Duke fans had hoped. As the leader of the Dookies, Singler leads them on the court but not in PPG, RPG, and APG but only in SPG. He is not a great athlete but a hard worker and he only shoots 42% from the field. As the season goes on we will likely see Singler stay one more year.

28.

Georgia Tech

Gani Lawal
PF/C
6'8", 233 lbs
Gani Lawal has played well this season averaging a double double for the Ramblin' Wreck. Although overshadowed by Favors, Lawal leads the team in PPG and RPG and might stay another year to further develop his game under head coach Paul Hewitt. Lawal is a good college post player but is not the athlete the NBA covets.

29.

Texas

Dexter Pittman
C
6'10", 310 lbs
Dexter Pittman is a big man (6'10" 310) and his arms make him even bigger. He can literally dunk the ball without jumping and has worked hard to lose 70 lbs. since arriving four years ago. He has nice big soft hands and if he can continue to work on his post moves, he will be a late first round pick next season.

30.

UConn

Stanley Robinson
SF/PF
6'9", 212 lbs
Stanley Robinson "Sticks" as they call him has always been known as a great athlete and that is it but this season Stanley has tried to show more of his versatile side off. He can score, off put backs, averaging nearly 15 PPG; rebound, averaging over seven RPG, and can defend averaging over a BPG. His offensive game is limited but will be able to defend and rebound at the next level.