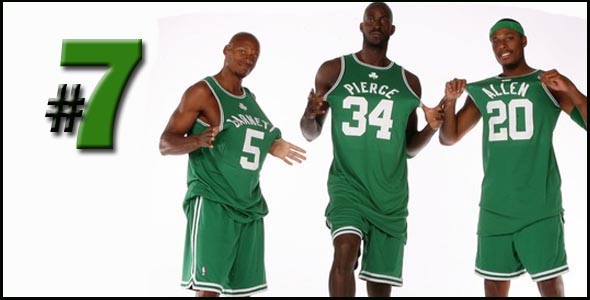 July 31, 2009 – Allen Moll
Allen Moll is an avid NBA and College Basketball fan who watches and studies games religiously and coaches youth basketball in his native Lehigh Valley region of Pennsylvania. Allen is a regular columnist for TheHoopDoctors.com, Bleacherreport.com, Fanhuddle.com as a NY Knicks correspondent, hoopsworld4.wordpress.com, and Helium.com.
With this season's NBA Finals behind us, I decided to take a look back and rank the greatest NBA Championship teams in the modern era(post 1980). This will be a ten part series with a new entry each week. Which teams had the most dominating seasons and playoff runs in the last 30 years? How would they stack up against each other? Which teams had the most Hall of Fame players or coaches? The rankings were limited to two teams per franchise in the top ten. Let the debate begin.
Starting Lineup: Rajon Rondo, Ray Allen, Paul Pierce, Kevin Garnett, Kendrick Perkins
Impact Bench Players: Glenn Davis, Eddie House, James Posey, Leon Powe
Regular Season Record: 66-16
Playoff Record: 16-10
Finals: Beat Lakers 4-2
Individual Awards: Garnett – Defensive Player of Year, All NBA 1st Team, All Star Starter Pierce – Finals MVP, All NBA 3rd Team, All Star Allen – All Star
After the Boston Celtics of '07 had one of their worst seasons in their storied history, finishing 24-58, GM Danny Ainge set a plan in motion to surround team captain Paul Pierce with a championship caliber supporting cast. By virtually gutting the roster and starting from scratch, he assembled one of the better defensive lineups and one of the best trio of star players to ever play on the same team. First, Boston acquired Ray Allen, a 7 time All-Star, along with Glenn Davis from the Sonics, then signed Kevin Garnett, the former MVP and 10 time All-Star to be paired with Pierce, a 5 time All-Star himself, which made Boston the immediate odds on favorite on paper to win the '08 championship.
The new Celtic trio brought back memories of Bird, HcHale, and Parish during the regular season by winning more than 60 games for the first time since '86. They dominated the Atlantic Division by besting 2nd place Toronto by 25 games and accomplishing the biggest turnaround in NBA history with a 42 game increase in wins from'07. The fans loved the new Celtics as well by selling out every game at home, renewing the Boston home mystique. The trio of superstars led the team offensively by all averaging between 17-20 points, Garnett leading in rebounding at 9.2, and 2nd year point guard Rajon Rondo leading in assists at 5.1 and steals with 1.6. For his dominating defense during the season, Garnett was honored with the Defensive Player of the Year Award and All NBA First Team Selection. Garnett, Pierce and Allen were all All-Stars. While most fans remember this team for the 3 superior offensive players, the real factor in Boston's title run was their stifling team defense, finishing in the top 5 among all NBA teams defensively.
In the playoffs, Boston road to the Finals had a few bumps by surviving against Atlanta 4-3, outlasting Cleveland 4-3, and besting the defending Champion Pistons 4-2 in the Eastern Finals setting up a matchup against the NBA's two winninest franchises, the Celtics and Lakers. While during the regular season Garnett dominated, it was Pierce's turn in the Finals. After severely injuring his knee by falling into teammate, Kendrick Perkins in Game 1, and having to be carried off the court, he returned later in the game in vintage Willis Reed fashion and immediately hitting consecutive 3 pointers in leading Boston to the win. Led by Pierce's inspiring play, Rondo's all around great point guard play, and suffocating team defense on regular season MVP Kobe Bryant, the Celtics beat LA by 39 points in Game 6, 131-92, setting a record as the largest clinching game margin of victory in Final history. It was the Celtics 17th NBA Championship, and first since '86, extending their NBA record for most titles by an single NBA franchise. The trio of Garnett, Pierce, and Allen is one of the best in modern history and still is today by annually vying for another title, barring any injuries.