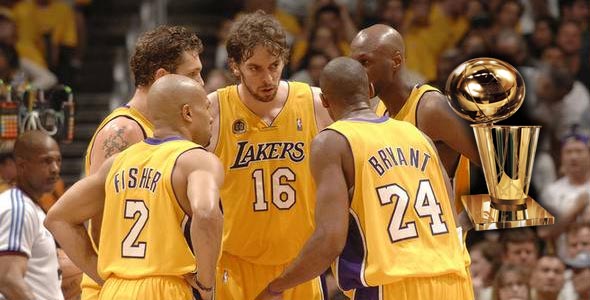 June 14, 2009 – Dr. Anklesnap
NBA Finals Game 5: Lakers 99-Magic 86
The Orlando Magic fought hard in games 2, 3, and 4, of the NBA Finals but still found themselves down 3-1 heading into Game 5 tonight in Orlando. Stan Van Gundy rallied his troops and the Magic certainly held out hope. But Kobe Bryant just wouldn't be denied. Seeking his first 4th NBA Championship, and 1st of which without Shaquille O'Neal at his side, Kobe played great from start to finish. Bryant had a huge game with 30 points, 6 boards, 5 assists, 2 steals, and 4 blocks, setting the tone on both offense and defense for the Lakers.
The Magic kept it close for a good portion of the first half, but after the Lakers went on a 16-0 run starting in the second quarter, the Magic just never recovered. The Magic's leaders Dwight Howard, Hedo Turkoglu, and Rashard Lewis all played terrible offensively. The Magic who are often praised for their strong outside shooting touch, didn't hit their first three point shot until early in the third quarter, and finished with a mere 29% from the arc. While I hate to take anything away from the Lakers strong defensive performance tonight, the Magic just didn't perform offensively.
Kobe Bryant tonight solidified his legacy. He finally proved that he can lead a team to an NBA Championship as the focal point and franchise guy. As expected Kobe Bryant won the NBA Finals Most Valuable Player award. Kobe Bryant and Derek Fisher also tied Shaquille O'Neal and Tim Duncan as the only active players with 4 NBA Championship Rings.
Possibly the biggest story from the game and Lakers championship win however was Lakers coach Phil Jackson winning his tenth NBA championship as a coach, which is the most of any coach in league history. Jackson surpassed Celtics legendary coach Red Auerbach's record 9 titles as a coach. Phil was asked during the trophy presentation what it meant to him to pass Red's historic mark for titles, and he said "I'm going to go home tonight and smoke a cigar in memory of Red…"
Well done Lakers, you were definitely the team to beat this year and pulled it out. It's not as easy as it looks to be a front runner and have every team in the league gunning for you all season long. Los Angeles Lakers are the 2009 NBA Champions, time for a parade in LA!
Check back on The Hoop Doctors tomorrow for more detailed analysis and discussion on the Lakers win, and where both teams go from here….