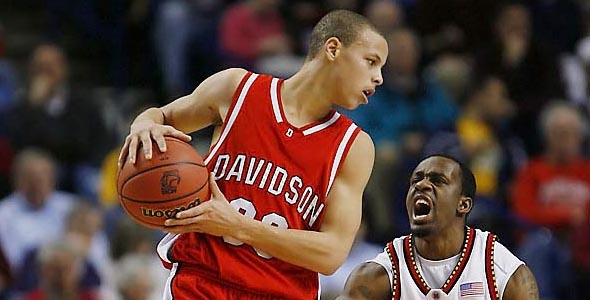 June 18, 2009 – Dr. Dime
For more Mock Drafts from all sorts of Blogs and Analysts check out our NBA Mock Drafts Database!
The Hot Riser from my previous mock is Stephen Curry jumping up from the 9th pick to the 5th pick. The biggest freefall goes to Chase Budinger dropping all the way from the 13th pick to the 26th pick. What a difference a month can make, huh?
These are only my choices and not the consensus picks of all of The Hoop Doctors writers, with that said here is my full first round mock draft based on the draft order and team needs:
Draft Order
Team
Projection
Position
Stat Line

1.

LA Clippers

Blake Griffin
PF
22.7ppg, 14.4rpg, 1.2bpg
Does Blake Griffin fit the Clippers needs perfectly? No. Is he a lock to be the Clippers pick in the draft? Absolutely. You just can't miss with Griffin at the first pick. He's super athletic, has proven himself, and has shown tremendous work ethic. He is, and deserves to be, the consensus #1 pick in the 2009 draft.
College Team – Oklahoma

2.

Memphis Grizzlies

J.Harden
SG
20.1ppg, 4.2apg, 5.6rpg
The lottery and draft order changing, has changed the fortunes quite a bit for Harden. Rubio is increasingly seen as being 'overhyped' and could give teams unwanted headaches in buyouts to get him here. The Grizz will want to pick up backcourt help, and Harden is probably the most well rounded player in this upcoming draft. He's a stat stuffer, he does it all.
College Team – Arizona State

3.

OKC Thunder

H.Thabeet
C
13.6ppg, 10.8rpg, 4.2bpg
Think about a future front court of Kevin Durant at SF, Jeff Green at PF, and the friendly giant H.Thabeet at C. Ummm yeah, that would be nasty. Then add Westbrook into the mix running the show on offense. Could be the perfect combination of offense from Durant and Green, and defense from Thabeet and Green. Look for OKC to pick big here.
College Team – UConn

4.

Sacramento Kings

R.Rubio
PG
9.8ppg, 5.7apg, 1.9spg
Seriously, the case could be made for dropping Rubio another couple of spots. Personally, I think on raw talent Curry deserves a look at the 4 spot, but given the fact that Kevin Martin is a volume shooter with similar defensive problems due to his physical make up that Curry has, i'd say the Kings will look to solidify Rubio as their point guard of the future.
College Team – N/A (Euro)

5.

Washington Wizards

Stephen Curry
PG/SG
28.6ppg, 5.6apg, 2.5spg
Is there a more dominant scorer in the draft this year? Not even close. Forget the knocks on his size, Curry is impressing all onlookers in workouts and he is poised to prove the naysayers wrong. He's a phenomenal outside shooter, and although his 3pt % dropped a bit this year, he was getting to the line a lot more showing his speed, and played the point more showing his passing abilities. Don't forget he also faced double and sometimes triple teams all season long.
College Team – Davidson

6.

Minnesota Timberwolves

Jordan Hill
PF
18.3ppg, 11.0rpg, 1.7bpg
Hill is super athletic, freakish really. A lot of NBA teams drool all over guys with this kind of athleticism and forget about their lack of fundamentals and skills. Sort of reminds me of Tyrus Thomas in that he's super athletic so teams will be all over his potential and forget about his shortcomings. Hill has limited post moves and often turns the ball over to good defenses. But based on pure potential with his size, strength and speed he's one of the top picks regardless.
College Team – Arizona

7.

G.S. Warriors

Tyreke Evans
PG/SG
17.1ppg, 3.9apg, 5.4rpg
There is still a lot of uncertainty about Monta Ellis and the Warriors, but with so many talented guards in the draft this year, the Warriors will no doubt be looking at taking Tyreke Evans at the 7 spot. Evans has been a star well known to NBA Scouts since he was still in his early years in High School. Evans can play both the 1 and 2 spots as he has great ball handling ability but is also an excellent scorer. Sometimes criticized for his shoot first mentality, Evans can get to the free throw line at will, and sort of reminds me of a Gilbert Arena's type guard when he's on his game.
College Team – Memphis

8.

New York Knicks

Brandon Jennings
PG
7.6ppg, 1.6apg, 1.2spg
The Knicks fans want flash. They want talent. They crave it, they need it, they have the biggest stage in the league. I am going to make a prediction here. Brandon Jennings after all is said and done in the careers of this draft class will be the most memorable and successful of the point guards. Once he matures and his body fills out, his defensive weakness may become one of his strengths. He has the court vision of a young Jason Kidd, and the style of a young J-Will. He could be the one to make Knick basketball fun to watch again.
College Team – N/A (Euro)

9.

Toronto Raptors

Jonny Flynn
PG
17.4ppg, 6.7apg, 1.4spg
Jonny Flynn has been impressive in workouts and has been the subject of a recent buzz among the mock drafts. Pretty much everyone who conducted early mock drafts have bumped this guy at least a few spots up in recent reviews. A lot of you out there will question the Raptors need for a point guard, given that they have Calderon locked in for a while. But the Raptors need a serviceable point guard off the bench in the near term, and when you draft for talent instead of need you get a potential bargaining chip for trade negotiations down the line.
College Team – Syracuse

10.

Milwaukee Bucks

Demar DeRozan
SG/SF
13.9ppg, 5.7rpg, 1.5apg
DeRozan finished the year very strong, and shot the ball consistently well all year. He has excellent form and shooting mechanics. Match that with his athleticism and all sorts of NBA clubs will be looking to land this guy past the top ten. His ball handling abilities leave something to be desired, but he's an adequate defender and rebounder. In the NBA where quality consistent shooters are at a premium, this guy just has too much potential to fall out of the top ten in this year's draft.
College Team – USC

11.

New Jersey Nets

Gerald Henderson
SG
16.5 ppg, 4.9 rpg, 2.5 apg
The New Jersey Nets have a pretty talented back court already with Devin Harris and Vince Carter, but they really lack depth. If the Nets next year plan to play a bit more uptempo than they have in previous years they will need players like Henderson who can fill the stat sheet in many different ways and get you moving. He has excellent transition game, and good mid-range jumper.
College Team – Duke

12.

Charlotte Bobcats

Ty Lawson
PG
16.6ppg, 6.6apg, 2.1spg
The Charlotte Bobcats need a true facilitator if they are going to play in a Larry Brown system. They need a guy that looks to pass first and score second. Although Brown typically doesn't give rookies a lot of burn, I think Lawson may be the perfect back-up point guard that Brown could mold into the type of player he needs to run the offense and avoid turnovers. He also has a strong enough body to be a successful defender if he follows the defensive minded Brown's commitment to the craft. Did I mention Lawson is a winner yet? Brown loves winners, and Lawson's NCAA title should speak volumes to Brown.
College Team – North Carolina

13.

Indiana Pacers

Jrue Holiday
PG/SG
8.5ppg, 3.8rpg, 3.7apg
He is rail thin at 6'3″ but when he fills out and improves his defense against more physical opposition he should be a solid player in the league. After coming into the NCAA with huge hype about his skills, Holiday was a bit of a disappointment, but given his success in workouts and his tremendous 'upside' look for his stock to rise as high as the Indiana pick. I doubt he will crack the Top 10 however.
College Team – UCLA

14.

Phoenix Suns

James Johnson
SF/PF
15ppg, 8.5rpg, 2.0apg
Since Shawn Marion was dealt the Phoenix Suns have really missed having an athletic player that can score without having to run plays for him, that also can stuff the stat sheet in a variety of other categories. Johnson's ability to play either the 3 or the 4 will give his eventual team a lot of options for mismatches and he is skilled enough to create his own shot if need be. With the uncertainty around the future of Amare Stoudemire, look for Phoenix to think big and think versatile.
College Team – Wake Forest

15.

Detroit Pistons

Eric Maynor
PG
22.4ppg, 6.2apg, 1.7spg
Let's face it the Detroit Pistons biggest shortcoming is on the offensive end. They lack firepower, and they lack a point guard who can distribute. Eric Maynor can do it all. He is arguably one of the most talented offensive players in the draft this year, putting up big numbers in both scoring and distributing. I highly doubt Pistons fans will see Allen Iverson in the Motor City, so Maynor could be exactly what the doctor ordered.
College Team – VCU

16.

Chicago Bulls

DeJuan Blair
PF
15.7ppg,12.3rpg, 1.0bpg
Blair's stock is rising. He is a hard working player on both ends of the floor and he was a double double machine in College. Generally players like Blair adapt quicker to the NBA game, but are rarely stars in the making. He should make for a serviceable PF in Chicago who lack the front court role players to do the dirty work. He works hard, he's physical, and he doesn't require a lot of plays called for him. He's a coach's dream.
College Team – Pitt

17.

Philadelphia 76ers

Jeff Teague
PG
18.8ppg, 1.9spg, 3.5apg
The 76ers are extremely at the PG spot, with the whole team riding on Andre Miller's shoulders. After their early exit in the post season this year, some are calling into question Miller's desire to stay in Philly. Teague may be the perfect fit for the Sixers to start grooming the next point guard talent to man the point.
College Team – Wake Forest

18.

Minnesota Timberwolves (from Heat)

Terrence Williams
SF
12.5ppg, 8.6rpg, 5.0apg
Williams is one of the top pure athletes in this draft class. He has amazing combination of size, quickness, and strength. He is a total stat stuffer, and a team guy. Who wouldn't love playing with this guy? Williams will be a welcome edition to the youth movement in Minnesota and may even become an integral piece to the Wolves turnaround in the post-Garnett era.
College Team – Louisville

19.

Atlanta Hawks

Patrick Mills
PG
18.4ppg, 3.9apg, 2.2spg
Atlanta Hawks are one of the rising teams in the strengthening Eastern Conference. What we saw in the playoffs against the Cavaliers though was their inability play defense and take care of the ball. Patrick Mills should be a welcome edition in that department as he was one of the top pick pockets in College Basketball this year, and he is also an excellent ball handler. Look for the Hawks to pick up Mills to shadow an aging Mike Bibby.
College Team – St. Mary's

20.

Utah Jazz

Earl Clark
SF/PF
14.2 ppg, 8.7 rpg, 1.4 bpg
Clark has great ball handling skills, is athletic and can run the break. He fills quite a few needs for the Jazz, instantly making them younger and more potent. The major knock on Clark has been consistency and the appearance that he's not giving a full effort throughout the entire game. That won't fly with Coach Sloan, but I doubt it should be a big problem once he's in the league.
College Team – Louisville

21.

New Orleans Hornets

BJ Mullens
C
8.8ppg, 4.7rpg, 1.1apg
Let's face it there are concerns about Tyson Chandler's health or why else would the New Orleans attempt to ship him out have been rescinded. BJ Mullens isn't the flashiest big man out there, and he certainly doesn't have the best stat sheet. But you can't teach size, and at 7'0″ and serviceable, he may just be the guy to fill in for Chandler as injuries have hampered his ability to stay on the court.
College Team – Ohio State

22.

Dallas Mavericks

Jonas Jerebko
SF/PF
9.2 ppg, 5.5 rpg, 0.4 bpg
A strong push as of late by turning in good performances in his Italian league post-season, then having a good showing in the Reebok Eurocamp. He looks to be a stat stuffer, and the type of player that will give you all sorts of intangibles. He is working and giving you 110% at all times. This slot still may be a bit high for him, as he's destined to be a 'role player' but he will pay off in the long run for whoever grabs this guy.
College Team – N/A (Euro)

23.

Sacramento Kings (from Rockets)

Wayne Ellington
SG
15.8ppg, 4.9rpg, 2.7apg
Who doesn't love a Tarheel right? The Kings will be looking to get more athletic and deeper in the draft as they have some talent, but probably one of the thinnest benches in the league. Ellington looks to be a great guy to back up Kevin Martin and give them some energy off the bench.
College Team – North Carolina

24.

Portland Blazers

Tyler Hansbrough
PF
20.7ppg, 8.1rpg, 1.2spg
Everyone is just waiting for this guy to flop at the next level. Personally I just don't think it's going to happen. He's a proven champion and one of the hardest workers on the best team in college basketball. That sort of steady improvement always bodes well for players at the next level. Look for Hansborough to be a target of the Portland Blazers who are strong on the front line but could use a great hustle player off the bench as an insurance policy to the litany of injuries to Greg Oden.
College Team – North Carolina

25.

OKC Thunder (from Spurs)

Sam Young
SF
19.2ppg, 6.3rpg, 1.1apg
Young has a great scoring touch, and is killer with the back to the basket position and turn around jump shot. Although Kevin Durant is all the scorer the Thunder could ever need at the SF spot, Young could give them some good perimeter defense when Durant is out of the game. Young may even be able to give them some limited minutes at the two spot if he can extend his range a bit.
College Team – Pitt

26.

Chicago Bulls (from Nuggets)

Chase Budinger
SG
18.0ppg, 6.2rpg, 3.4apg
It's not often you get a player that can shoot the outside shot, who is a great passer, can handle the ball and play the natural SG position with a 6'7″, 220lb frame. Budinger also has a tremendous basketball IQ. He will be effective playing either alongside or backing up Gordon.
College Team – Arizona

27.

Memphis Grizzlies (from Magic)

Austin Daye
PF
12.7 ppg, 5.8 rpg, 2.1 bpg
Daye has tremendous skills for a guy his size. But at 6'10" tall he's as thin as they come. If he doesn't beef up he will be forced to play on the perimeter on offense, and be a slow liability on defense. He won't be able to guard even the smallest of power forwards in the post. Given his skill set and height, the Grizzlies may be thinking of him as having the potential to be a poor man's Chris Bosh. And that in itself is pretty damn valuable.
College Team – Gonzaga

28.

Minnesota Timberwolves (from Celtics)

Taj Gibson
PF
14.3ppg, 9.0rpg, 1.3apg
I love Gibson's talent. I think he is only going to get better as he has great timing as a shot blocker and a tremendous wingspan for his height. He's an adequate scorer, and hopefully will become a great rebounder with more training at the next level. The TWolves have a pretty strong front court, so there is time for Gibson to develop and give them some spot minutes where necessary.
College Team – USC

29.

LA Lakers

Omri Casspi
SF
n/a: ppg, rpg, apg
His numbers with Maccabi Tel Aviv aren't going to tell you a whole lot about this player as his minutes were limited and he is someone you would need to have seen for yourself. He has great energy and loves to score. He's got the scorer's mentality. His professional basketball experience should help him adjust to the NBA faster than most. He gives opposition all sorts of matchup problems at the 3 spot. With the three spot about the only position not completely solidified in LA, he may even crack the rotation for some minutes if he lands there.
College Team – n/a

30.

Cleveland Cavaliers

Darren Collison
PG
14.4ppg, 4.7apg, 1.6spg
We all have seen how positive Mo Williams has been for the Cavs so they are pretty solid at the point. But clearly Delonte West is a better fit as a scorer at the 2. So where does that leave the Cleveland depth at the point? Collison is a great passer, loves to score, and could be just the guy to back up Mo Williams, even as a rookie. He's a little suspect defensively as he's sort of thin, but that can be addressed at the next level.
College Team – UCLA