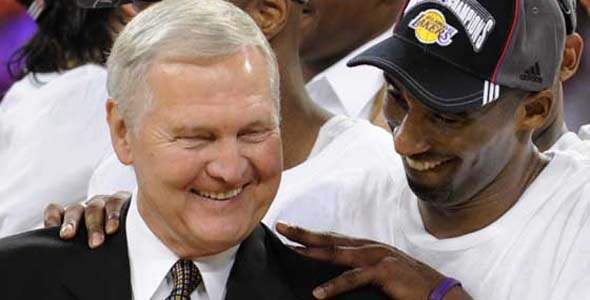 May 29, 2009 – Dr. Dime
Jerry West is one of the greatest NBA guards of all-time. He played the game with more energy and toughness than probably any other guard I can remember. He broke his nose over 9 times during NBA games throughout the course of his career. If that's not a measure of throwing yourself head first into the action, than I don't know what is. West is also the player the NBA has used for many years as the silhouette on the NBA Logo. Hence his nickname 'the logo', 'mr.logo', or just plain 'logo'.
'The Logo', Jerry West, shocked the world last week when he publicly stated in an interview that he felt "Lebron James has surpassed Kobe Bryant as a player". It's nothing all that shocking for someone to believe Lebron is better than Kobe, as there is a growing King James fan base who would be eager to argue just that. What is surprising however, is that Jerry West would publicly state his opinion on the matter given his past relationship and friendship with Kobe Bryant. After all Jerry West was the Lakers executive who orchestrated bringing Bryant to Los Angeles in a trade that sent Vlade Divac to the Charlotte Hornets.
But then again, given the hype around a potential Kobe vs. Lebron NBA Finals this year, who wouldn't want to get in on the action, right? We found the full Jerry West interview for you where he discusses Lebron vs. Kobe, and whether or not Lebron James has a shot at becoming the next G.O.A.T: