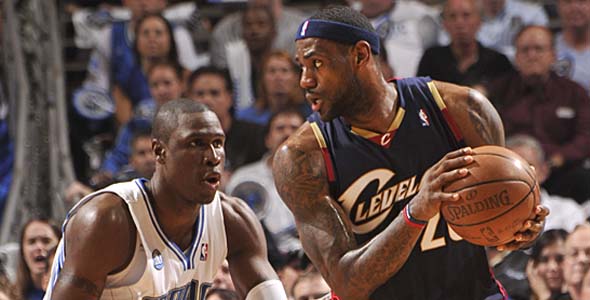 May 27, 2009 – Dr. Anklesnap
After last night the Orlando Magic are on the brink of shocking the world. Can they close? Do they have that killer instinct necessary to put away King James and the Cavaliers who sported the best record in the NBA this season? My guess is that Lebron James isn't going to go away quietly. In fact in three of the four games thus far, the match came down to a final buzzing beating shot to either win or lose the game. When people say "that series could have gone either way", there is probably no more fitting candidates than this Magic-Cavaliers series. But at the end of the day, no one really remembers those sorts of fine details, because a win is a win, and the Magic are looking good to upset the Cavs and move on to the NBA Finals.
I think the Cavaliers will win the next game in Cleveland, but it may be a futile attempt at a comeback as the Magic are going to be tough to beat in a deciding game on their floor. Here is what some of the other blogs i'm reading have to say about the Magic-Cavaliers series after last night's game:
Shoals at The Baseline – "But then again, how exactly is any team supposed to beat the Magic when they make almost half of their three-pointers, aren't shy about shooting them, and then have Dwight Howard just go nuts in the paint in overtime? Forget about adjusting to keep Howard in motion; the big man just took it down in the post and overpowered Anderson Varejao. Oh, and Howard even made two key free throws late."
Ben Q Rock at Third Quarter Collapse – "I know the Cavaliers are upset to be down 3-1, but they should at least take solace in the fact that they forced the Magic to overtime, on the road, despite yielding a whopping 17 made three-pointers. On the other hand, there's really no excusing how wide-open they left the Magic on a lot of those threes. I suppose they can live with some of Alston's looks because he is the Magic's poorest outside shooter in the rotation, historically speaking, but they consistently left Mickael Pietrus open in the corners, his favorite places to shoot. Cleveland dared Alston to win the game for Orlando, and he delivered more often than not. 26 points on 10-of-17 from the field and 6-of-12 from three-point range. Taking what the defense gave him, which is to say taking a lot. Stellar play from Orlando's deadline-day acquisition."
CavsBlogger at Fear the Sword – "We live in a society, especially as sports fans that love to look for blame. It just has to be someone's fault. Me? I prefer to give credit when it is due, even though it can be hard as hell to do. The Orlando Magic create matchup problems for the Cavaliers all over the floor. Having those matchup and taking advantage of them, however, are two different things. The Magic may not have LeBron James, but they have 6 guys that, individually, get just as hot, and be just as hard to stop. The Magic shot nearly 45% from 3-point land, impressive by itself until you see they did it on 39 attempts. 17/38 from behind the arc is other-worldly. The Cavs made 5-19, meaning the Magic outscored the Wine and Gold 51-15 on three balls. That deficit is hard to make up."
Zach Harper at Talk Hoops – "Before the game started, Mo Williams guaranteed that the Cavs would win this series. Even though series/game guarantees are essentially worthless and stupid, I have no problem with Mo thinking that the Cavs are going to win this series. He should feel that way. But you put an unnecessary vibe and pressure over your entire team (not just you) when you guarantee stuff like that. And when you don't come through, it becomes an extraneous drama that gets played up. Plus, it gives bulletin board material to the other team, which is something that doesn't need to happen in the playoffs. These guys don't need any extra motivation. So when you get down to his performance not only in this series but also in this game, the guarantee makes his performance (5/15 shooting) even more detrimental to the team."
That NBA Lottery Pick – "My real issue with Mo Williams is the comment that he made saying that the "Cavaliers were the best team in basketball." I think this comes up with an O RLY moment. The best team in basketball does not give away a game one at home and comes only a second away from being swept. I have personally never been someone who was for this "I guarantee this win" sort of individual especially when I was down in the series. Maybe all the mock-picture taking and baseball swings should have been saved when they actually get to the Finals. Mo Williams should back his play up on the court and not with his mouth."
What are your thoughts on the Cavaliers chances to pull through now?