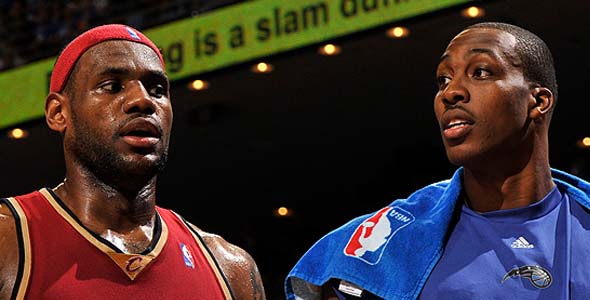 May 25, 2009 – Dr. Anklesnap
I have to admit being more than a little surprised when the Orlando Magic in Game 1 of the Eastern Conference Finals showed their grit and fought back from a large deficit to win the series opening game against the Cleveland Cavaliers. Then Lebron James dropped 'the bomb' at the end of Game 2, and once again I thought that signaled the Cavaliers had awoken and would once again be favored to run away with the series.
Boy was I wrong. The Orlando Magic are playing with a purpose. They are bullying the bully. They are beating the Cavs at their own game, and that's defense. People can talk all they want about how improved the Cavaliers offense is since they acquired Mo Williams and Delonte West, but their bread and butter is still playing lock down defense. If the Cavaliers can't figure out a way to solve the Magic's interior defense and score more buckets in the paint, the only way they can possibly win this series is by shooting the lights out from the perimeter. Unfortunately for the Cavaliers they have been shooting far below average from the perimeter.
But while we are on this roller coaster ride of emotions you have come to know as the '7-game series' here is what some of the other blogs i'm reading have to say about these swings in the Magic-Cavaliers series:
Robert Littal at Black Sports Online – "I understand it is hard playing 1 on 5 and I understand it is hard playing for a coach who if you mention the triangle or motion offense looks at you like you are talking quantum physics. So when I tell you this has nothing to do with your game on the court I mean it. Physically LB you are the best player in the league and if you get your ring you will end all debate who is the best player in the league period. With that being said it is time for someone to tell you what everyone has been whispering behind your back: STOP ACTING LIKE A DAMN DRAMA QUEEN "
Online Sports Fanatic – "The problem for Cleveland is that they don't have anyone around Lebron James that is making anything right now. Mo Williams was 5 of 16, Zydrunas Ilgauaskas was 3 of 10, and Delonte West was 5 of 11. Combined that's 13 of 39 (33%). That's not good enough if the Cavaliers want to win a NBA championship. On the flip side, not only is Howard suddenly hitting free throws but the Magic are winning as their best offensive option, Turkoglu, struggles. Rashard Lewis is draining shots from everywhere, and Mickael Pietrus played very well with 16 points. I don't mean any disrespect to Cleveland or their fans but it looks like 5 players are beating 1 right now. The Cavaliers have more than just Lebron James talent wise, but his supporting cast hasn't shown up in this series."
Zach Harper at Talk Hoops – "There were three big problems with the Cavs in this game. 1) The Cavs didn't give LeBron much of any help. His teammates shot 36% from the field and his starting backcourt continued to struggle. Mo Williams is now shooting 32% from the field in this series. 2) LeBron James missed six free throws and the Cavs missed nine total. LeBron missed huge opportunities in the fourth quarter to capitalize on the over-officiating by the referee crew by missing five free throws in the final period. He's now beginning to become as serious of a choker at the line as Nick Anderson. And 3) the Cavs couldn't make a big shot when they needed to. LeBron blamed their lack of putting together a final run on all of the whistles but the truth is that they missed nine of their 11 three-point attempts in the fourth quarter. You can't win a close game if you can't knock down the big shot."
Tim Povtak at Fanhouse – "The bad blood is starting to boil in this Magic-Cavaliers matchup. Just ask Cleveland's Mo Williams, who left Amway Arena with a four-stitch cut below his left eye and another bandage above the same eye, compliments of an elbow from Magic guard Anthony Johnson. Williams all but called out Johnson in his postgame rant. [Most definitely, he responded when asked if the foul was a cheap shot. That was the second time for him. We dove out of bounds in Cleveland last game, and he gave me an elbow then. This is the second time, most definitely]"
Dueling Couches – "This was rugged and physical game, in all there were 58 personal fouls called, two technicals, and a flagrant. In the first half, Mo Williams had his left eye split open by Orlando's Anthony Johnson. Williams, who needed four stitches to close two cuts…..The Magic limited the Cavs to a postseason-low 37.2 percent shooting. The Magic had an excellent game plan in making the other players not named LeBron beat you. And they didn't, no other Cleveland player scored over 15 points and were all cold from the field. I may have overlooked Orlando, or may have overrated the Cavs, but I seriously believe that the Magic may have the Cavs number. And If I were from Cleveland I would be a wee bit worried."
What are your thoughts on this series thus far?