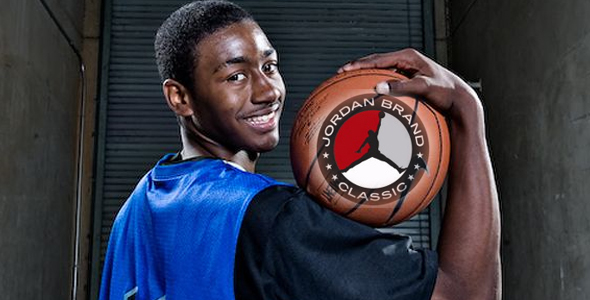 April 18, 2009 – Dr. J-Water
If you are anything like me, you could hardly even sleep last night in anticipation for today's start to the 2009 NBA Playoffs. But there is another reason to be excited about today if you are a basketball fan. Today is the annual Jordan Brand Classic All-American Game, featuring the Top 20 High School Ballers in the Country. We told you about the recent McDonald's All-American Game, this one should be just as exciting. Who are The Hoop Doctors anxious to watch? Only one man, period. John Wall from Word of God Academy in Raleigh, NC.

He has already been proclaimed the "Sickest Player in the Country" by many, and in his short stint in the spotlight thus far has created quite a buzz on the streets and on the internet. He's quickly becoming the king of YouTube clips and people have gone as far as comparing his game to that of Dwyane Wade.
Here's a shocker for you: I think he can actually be better than Dwyane Wade (…someday). He is 6'4″ and has freakish speed and athleticism, like Wade. He can play defense and has excellent court vision, like Wade. He really gets after it and fills up the box score, like Wade. Where he's a leg up on Wade, is that from this young age he has ridiculous handles. His ball handling ability is off the charts for a guy his age and his size. He just sickens guys on the court. Freezes them in their tracks and makes them look silly.
We have been contacted by a couple Jordan Classic PR Reps who are promising footage and photo's after the game. But in the mean time here is a little something, something, that may wet your appetite for a little John Wall from Word of God.